Fiat names chief executive, accelerates restructuring
Just days after the death of Fiat's chairman raised questions on the direction of the company, Fiat named a chief executive on Tuesday, reaffirmed its commitment to its money-losing car unit and said that it would accelerate a restructuring plan that aims for a return to profit in 2006. \nThe board of Fiat named Sergio Marchionne, until Tuesday morning the chief executive of the Swiss quality and testing services company SGS, to be chief executive. \nMarchionne, 52, has been a member of the Fiat board since May last year and during the previous shuffle for a chief executive early last year was mentioned as a possible candidate. \nHis appointment followed the death on Thursday of Umberto Agnelli, who had been chairman of Fiat for slightly more than a year. \nMarchionne is the fifth chief executive of Fiat in the last two years and faces the task of turning around a company that has lost 6 billion euros (US$7.3 billion) in the past two years. \nHe takes control of Fiat after the abrupt departure of Giuseppe Morchio, who quit unexpectedly on Sunday. \nrestructuring plan \nMorchio and Agnelli put together a four-year restructuring plan a year ago that included 3.1 billion euros (US$3.8 billion) in cost cuts and 12,300 layoffs, most of them now carried out. \n"The restructuring plan was approved last year by the board of directors and I will take that plan forward," Marchionne said at a news conference here, where Fiat is based. "I'm sure that Fiat will make it through this crisis and it will again become what it once was." \nFifteen years ago, Fiat was the leading carmaker in Europe, but it has since fallen to seventh place. In the mid-1980s when the Italian market was protected by high tariffs, Fiat had a 60 percent share. That has declined to less than a third. \n"There is a huge amount of potential in the management that Fiat already has, we just need to go tap it," Marchionne said. "I have done that before. In my 30 months at SGS, I took a lethargic company and turned it into a leader in its field." \nMorchio replaced 12 of Fiat's 19 top managers in the year after announcing his restructuring plan, and also managed to cut the company's losses by half. \nMarchionne declined to give further details of his plans for Fiat, noting that he had held the post for less than a hour. \nThe new chief's talent as a turnaround expert was known to the Agnelli family even before he joined Fiat's board last year; SGS is partly owned by the family through the same holding company that controls its 30 percent stake in Fiat. \nOne of the first issues Marchionne will have to tackle is a pact with General Motors that gives Fiat the right to sell its 90 percent stake in Fiat Auto to GM beginning next year. The Agnellis have said that they have no intention of selling Fiat Auto, but are only willing to cancel the pact for a fee. GM maintains the pact is already dead because Fiat breached its terms.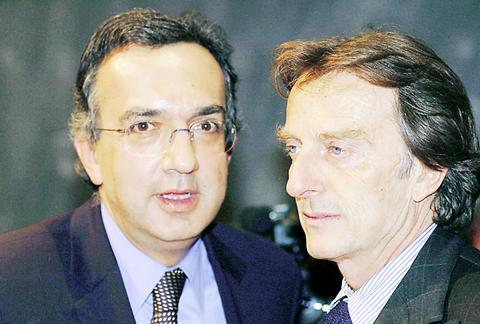 Fiat chairman Luca Cordero di Montezemolo, right, poses with new chief executive Sergio Marchionne during a press conference at Fiat headquarters in Turin on Tuesday. Marchionne replaces Giuseppe Morchio, who resigned unexpectedly after being passed over for the post of chairman following the death of Umberto Agnelli.
PHOTO: AFP
Comments will be moderated. Keep comments relevant to the article. Remarks containing abusive and obscene language, personal attacks of any kind or promotion will be removed and the user banned. Final decision will be at the discretion of the Taipei Times.