Bangkok cleans up its act before world leaders' visit
Psst! Wanna buy a fake DVD or CD?
Then don't come to Bangkok, at least not until 21 world leaders wind up their meeting in the city later this month and the red carpets are rolled up.
Bangkok's counterfeit dealers -- selling everything from music to Louis Vuitton bags to Rolex watches -- have gone underground as the country prepares to host the Oct. 20 to Oct. 21 APEC forum summit.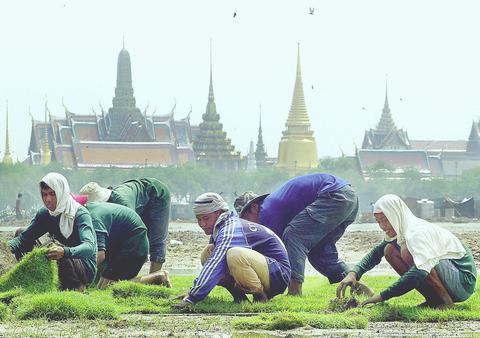 Workers plant grass in front of the Grand Palace in Bangkok, yesterday, ahead of the APEC meeting later this month. Thailand's famously chaotic capital has been scrubbed and sanitized to impress world leaders attending the APEC summit with campaigns to beautify the city and clear it of beggars and stray dogs.
PHOTO: AFP
US President George W. Bush and Russian President Vladimir Putin are among those who will attend.
In an effort to project a good image of Bangkok for APEC delegates, the government has been clearing the city's streets of not only beggars and stray dogs but also counterfeit goods.
"We stopped selling the fakes on the 15th of last month," said one DVD vendor on Bangkok's bustling Silom Road, where hundreds of sidewalk vendors set up shop nightly to sell counterfeit goods.
"We can start selling them again ... after APEC," said the vendor, who did not want to give his name.
The issue of intellectual property rights (IPR) is not on the main agenda of the APEC meeting, but it is one topic that will be part of the free trade talk, said Thai Foreign Ministry spokesman Sihasak Phuangketkeow.
Under pressure from the US and EU, Asian governments have stepped up crackdowns on counterfeit vendors in malls and flea markets. In the first seven months of this year, Thai authorities seized more than 4 million counterfeit items, compared with 2.3 million in all of last year.
But despite the crackdowns and more than 3,000 arrests in Thailand through July this year, the goods were still readily available until the APEC preparations started, and now they're only more difficult to get.
One DVD vendor's stand offered only the genuine items, in real shrink-wrapped DVD cases -- unlike the 100 baht to 200 baht (US$2.50 to US$5) pirated ones that come in plastic sleeves with color photocopies of movie jacket covers.
But he handed out slips of paper with a handwritten name and a cell phone number for customers who want pirated copies.
"Call this guy, and he'll get them for you," he said, speaking on condition of anonymity.
Watch vendors, who once displayed tables of fake Rolexes, Cartiers and Guccis, now have only a smattering of cheap plastic wares. But look closely, and the vendor is wearing on her wrist three different fake high-end watches, and her business partner pulls watches out of his shirt pocket to show to another customer.
A European Commission investigation found Thailand to be the biggest source of pirated CDs entering the EU and determined that unauthorized CD production and sales constitute about 45 percent of Thailand's domestic market.
In the Philippines and Vietnam, which have been listed as the worst piracy offenders, similar crackdowns have had little impact.
On a visit to the Philippines in January, US Assistant Secretary of Commerce William Lash III said US companies lost around US$116 million to violations of intellectual property rights in the Philippines last year.
Under a trade agreement with the US, Vietnam is required to protect intellectual property rights in return for low tariffs on its exports to the US. Still, counterfeit CDs are widely available and cost about US$0.50 each, while DVDs are about US$1.
In Malaysia, the government last month ordered distributors to slash prices of video and music compact discs starting next year to help stamp out piracy. But corporations there fear US studios might refuse to sell the rights to distribute their titles in Malaysia because of the low retail prices.
A US Embassy spokesman in Bangkok said IPR protection is a key hurdle in the negotiations between the US and Thailand for a free trade agreement.
Many of the customers of fake DVDs and CDs in Thailand are Westerners.
One group of Americans who came for a two-week holiday stocked up on about 50 movies.
"We just have to put them in proper cases just in case anyone stops us at customs" in the US, said Shaun Tang, one of the tourists.
Comments will be moderated. Keep comments relevant to the article. Remarks containing abusive and obscene language, personal attacks of any kind or promotion will be removed and the user banned. Final decision will be at the discretion of the Taipei Times.