Game-over for Xbox in Japan?
CONSOLES Analysts say that Microsoft's new game console may have trouble getting itself established in a market already dominated by Sony and Nintendo
It could be game-over for Microsoft Corp after it launches the Xbox console in Japan tomorrow, as stronger Japanese rivals crush the US computer giant's quest to conquer the video-game industry, analysts said. \n"The foray into the gaming business is the biggest challenge for Microsoft in the 21st century and Microsoft has the financial power to meet such a challenge," said Hirohisa Oura, local managing director of the firm's Japanese arm. "We will make this year the year of the Xbox." \nXbox will compete directly against Sony Corp's PlayStation 2 and Nintendo Co Ltd's GameCube on their home turf -- a near-impossible challenge, according to analysts. \n"It seems there is almost no chance of Xbox becoming a major player in Japan," said Marusan Securities analyst Junji Nakauchi. "The domestic market will be where Nintendo and Sony engage in head-to-head battle." \nMicrosoft surprised skeptics when it sold 1.5 million Xboxes after launching the console in the US last November, while Nintendo has only shipped around 1.4 million GameCube machines there. \nBut in December alone, Sony sold around 2.5 million PlayStation 2 (PS2) consoles in North America and five million worldwide. \n"Judging by the available information, Xbox is unlikely to become an immediate threat to the PS2 or GameCube in Japan," said Tokyo Mitsubishi Securities senior analyst Nobumasa Morimoto. \n"We should not be too euphoric about the start-up of Xbox in Japan, and we should not make hasty decisions on the likelihood of success in making inroads into the Japanese games market just because of the initial sales," he said. \nAnalysts estimate Microsoft will ship around 300,000 Xbox consoles to Japan for the launch, compared with the 980,000 machines released at the debut of PlayStation 2 in 2000, and 450,000 for GameCube. \n"In Japan it will be difficult for Microsoft at the start," said BNP Paribas game and media analyst Takeshi Tajima. \n"The price-tag for Xbox is too expensive, it's pricing itself out of the market, also it does not have enough title games," he said. \nThe Xbox will cost ?34,800 (US$262) compared with ?29,800 for PlayStation 2 and ?24,800 for GameCube. But you pay for an array of special functions, including a built in hard-drive to download games faster, and Internet access, said Microsoft's Oura. \n"Although the price sounds higher than others, Xbox has pre-installed online functions ... and the most advanced graphic technology," he said. "We would like to create an online game world like Jurassic Park." \nBut Microsoft's machine will have a mere 12 games titles at first -- against over 400 on PlayStation 2 -- with only three exclusive to Xbox, analysts said. \n"Most are just remodeled versions of games for other consoles," said Mizuho Investors Securities analyst Satoshi Kurihara. "Overall, I see almost no `killer' title to attract consumers." \nMicrosoft may also loose out because -- at about 30cm wide, 30cm deep and 10cm high -- Xbox dwarfs rival consoles and would be harder to fit in the small apartments of typical young games players in Japan, analysts said. \nNews of Xbox's imminent arrival failed to ruffle the feathers of the competition. \n"We are not worried at all," said Koichihiro Katsurayama, a spokesman for Sony Computer Entertainment. "We shall keep developing our product by introducing new software." \nNintendo was equally calm. "It won't be a problem," said a spokeswoman. \nMicrosoft must slash its prices fast for Xbox to stand a chance at wrestling market share from PlayStation 2 and GameCube, said BNP Paribas' Tajima. \nBut despite the negative speculation, the US firm remained adamant its debut in Japan -- the world's second-largest video-game market -- would be a success. \n"[It] is the key milestone for the overall Xbox business worldwide," the firm said. Xbox will hit European shores on March 14.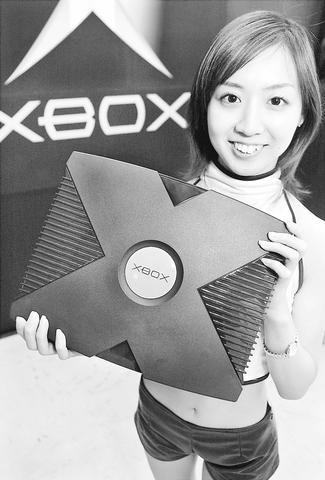 Microsoft's Xbox promoter "X-girl" Naoko Suzuki shows off the next-generation videogame console at an "Xbox Experience" pre-sales launch event in Tokyo February 20, 2002. Xbox sales kick off in Japan on February 22 at ?34,800 (US$260).
PHOTO: REUTERS
Comments will be moderated. Keep comments relevant to the article. Remarks containing abusive and obscene language, personal attacks of any kind or promotion will be removed and the user banned. Final decision will be at the discretion of the Taipei Times.