Cocoa lures the adventurous on new quest
SOUTH AMERICAN VARIETIES Venezuelan cocoa is widely held to be of superior quality, but politics and cheap African beans nearly eliminated its cultivation
Centuries after European adventurers scoured Venezuela's jungles in a feverish quest for the riches of El Dorado, modern-day explorers have come back to this area hungering for a different treasure -- chocolate.
Powering his jeep down a bumpy dirt track in a lush valley overlooking the azure Caribbean, William Harcourt believes he may have found a hidden prize in the form of a rare cocoa bean -- the raw material for the world's favorite sweet.
"Venezuelan cocoa is the best in the world, and this type of criollo bean is the best in Venezuela," beams the expatriate English farmer, hurtling toward the isolated Las Marias plantation buried in the jungles of the Maya Coast, about 80km west of the capital, Caracas, on the country's Caribbean coast.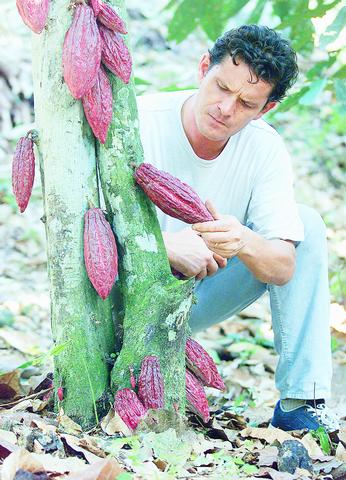 English expatriate farmer and investor William Harcourt examines a cocoa pod at the isolated Las Marias plantation buried in the jungles of Venezuela's Maya Coast.
PHOTO: REUTERS
The criollo bean, the prince of cocoas, traces its ancestry to the birth of the Theobroma cacao species in the low foothills of the Venezuelan Andes. It has a full aromatic flavor ideal for chocolate-making, but its thin-skinned, red pods make it susceptible to disease and have discouraged its cultivation.
Venezuela's cocoa industry has decayed since the days of Spanish colonialism, when African slaves toiled in these sweltering, snake-infested estates. The focus of cocoa cultivation has long since moved to tropical West Africa, and Venezuela now grows under 1 percent of the world crop.
But a handful of entrepreneurs see a niche opportunity to revive the long-stagnant industry and turn it into a hard-currency earner for the poor South American nation.
"We are focusing on the gourmet market. There is not enough Venezuelan cocoa to make these mass-produced sweets," said Jorge Redmond, owner of the famous local chocolatier El Rey, which processes about a third of Venezuela's crop.
Business is booming, he says, with the company doubling in size since 1995. Demand is strongest among quality-conscious chocoholics in the US and Japan, with sales to Canada, Britain and France also growing very nicely too.
Far from feeling guilty, Redmond insisted consumers should feel good about eating chocolate. He cited its ability to improve moods and to lower cholesterol, just like wine.
"Cocoa is very much like wine, and each bean has a different flavor and aroma. My favorite is guasare, from the border near Colombia, which is like the grand cru [vintage wine]," he said.
Arriving at Las Marias farmhouse, nestled beside a stream among hills blanketed with glossy coffee bushes, Harcourt was met by a reclusive agronomist, Felix Thalheim.
World demand for chocolate is outstripping supply and consumers are increasingly quality conscious, Thalheim said other foreigners had already come to the area in search of the best beans.
"Scientists came twice from a French company, Val Rhona, and took samples. They were delighted with the quality of the white cocoa here," said Thalheim, beneath the giant Bucare trees planted by the Spanish to shelter the delicate cocoa trees.
Despite some foreign interest, Thalheim lamented that agricultural investment had fallen victim to a turbulent leftist "revolution" being led by President Hugo Chavez.
The president, elected three years ago with a mandate to ease the poverty afflicting half the 24 million Venezuelans, has panicked wealthy elites with his plans to confiscate idle land and redistribute it among the needy.
"The owners of this farm will not seek a loan to expand it because they are afraid that tomorrow this land could belong to the state," said Thalheim. "This country is becoming something like an African dictatorship, like [Robert] Mugabe in Zimbabwe."
El Rey's Redmond was more confident. He believes Venezuela can triple its annual cocoa crop of about 14,000 tonnes within 15 years, using money from multilateral lenders to renovate farms and plant premium-quality beans.
But he said he wouldn't relying on Chavez. "Successive governments have always made noises about recovering production, and regardless of who they are, they have never done anything."
Europeans have coveted cocoa since their arrival in the New World. It was among the exotic "treasures" Christopher Columbus brought back to Spanish monarchs Ferdinand and Isabella.
It was not until 1519 when Aztec Emperor Montezuma served spicy "chocolatl" to Spanish conquistador Hernan Cortes that its commercial promise was grasped. The Spanish swapped the Mexican drink's chili peppers for sugar and kept its preparation a lucrative secret from the rest of Europe for almost a century.
In Venezuela, chocolate was intimately intertwined with power as the Spanish aristocracy sowed cocoa in their estates. To be "big cocoa" denoted high social standing, and the bean powered the Venezuelan economy until the 19th century.
"In France and Spain, cocoa from Caracas is preferred above all others," wrote the 18th-century gourmet, Antonio Lavedan, in his Treatise on Tobacco, Coffee, Tea and Chocolate.
The average cocoa plantation in colonial times would have around 10,000 trees and 10 to 20 slaves. While Las Marias retains the irrigation channels built by the Spanish, cheaper coffee cultivation has overtaken cocoa, and only 400 trees remain
"This man has a dream," said Thalheim, gesturing toward Harcourt. "But when I see people like him trying to recover their cocoa, I would like to say, `Don't bother.'"
Comments will be moderated. Keep comments relevant to the article. Remarks containing abusive and obscene language, personal attacks of any kind or promotion will be removed and the user banned. Final decision will be at the discretion of the Taipei Times.