US life expectancy declines amid a climb in overdoses
Life expectancy in the US dropped yet again as drug overdose deaths continued to climb — taking more than 70,000 lives last year — and suicides rose, a US government report said yesterday.
The drug overdose rate rose 9.6 percent compared to 2016, while suicides climbed 3.7 percent, the US Centers for Disease Control and Prevention's (CDC) National Center for Health Statistics (NCHS) said.
As a result, the average life span dropped to "78.6 years, a decrease of 0.1 year from 2016," the report said.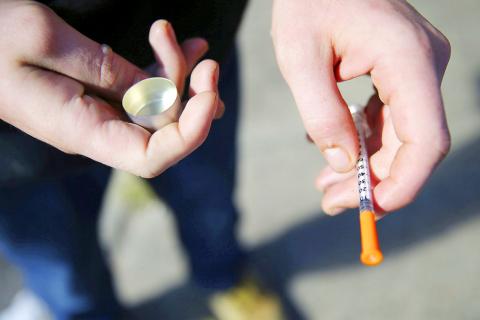 A fentanyl user holds a needle in Philadelphia, Pennsylvania, on Oct. 22.
Photo: AP
The data comes as the US grapples with a vast opioid epidemic, fueled by addiction to prescription painkillers as well as street drugs such as heroin and synthetic opioids, including fentanyl.
"The latest CDC data show that the US life expectancy has declined over the past few years. Tragically, this troubling trend is largely driven by deaths from drug overdose and suicide," CDC Director Robert Redfield said.
"Life expectancy gives us a snapshot of the nation's overall health and these sobering statistics are a wakeup call that we are losing too many Americans, too early and too often, to conditions that are preventable," he said.
'CONCERNING TREND'
Overdoses were a major factor when US life expectancy dropped slightly in 2015 for the first time in decades.
Another downtick was reported by the CDC in 2016, though those data were later revised to show a flat year, said Robert Anderson, chief of the mortality statistics branch at the NCHS.
Overall, the statistics show a "downward trend in life expectancy since 2014," a time period in which Americans have lost 0.3 years of life, he said, describing the trend as "very concerning."
Anderson said declines like this have not been seen since the great flu pandemic of 1918 and World War I — although those losses were steeper.
The peak of the HIV/AIDS epidemic in the 1980s also saw a nationwide drop in life expectancy.
"We're a developed country, we have a lot of resources, we should have increasing life expectancy, not decreasing life expectancy," Anderson said.
Canadians live on average three years longer than Americans. Japan has the longest life expectancy in the world, at almost 84.
OVERDOSE DEATHS
Drug overdose deaths from synthetic opioids like fentanyl — which killed the musicians Prince and Tom Petty — and tramadol increased by 45 percent between 2016 and last year.
The rate of heroin deaths was seven times higher than in 1999.
CDC figures showed that a total of 70,237 people died of overdoses last year.
Most of those deaths were unintentional in nature.
The rise — although dramatic at nearly 10 percent year-on-year — was about half the spike seen a year earlier.
In 2016, 21.6 percent more people died from overdoses compared with 2015.
Separately released preliminary government data for the first part of this year have also appeared to show a leveling off in overdose deaths.
US Health and Human Services Secretary Alex Azar said at a health conference last month, when that data came out, that the "seemingly relentless trend of rising overdose deaths seems to be finally bending in the right direction."
'HARD TO DIGEST'
However, experts urged caution in interpreting the results to mean the opioid epidemic has peaked, or is anywhere near an end.
"It is encouraging to see the trajectory of this start to decrease, without a doubt," said Harshal Kirane, director of addiction services at Staten Island University Hospital in New York City, who was not involved in the data collection.
"What would be a signal of some real change would be when the total number of overdose deaths year to year is actually decreasing," he said. "Seventy thousand deaths is hard to digest in any way as a positive outcome."
Comments will be moderated. Keep comments relevant to the article. Remarks containing abusive and obscene language, personal attacks of any kind or promotion will be removed and the user banned. Final decision will be at the discretion of the Taipei Times.