Haitian president emerges, calls for calm
OUT OF CONTROL: At least three people were killed by gunfire in weekend protests, in which a total of 11 people reportedly died, as calls have continued for Moise's ouster
After deadly weekend protests calling for his resignation, followed by a general strike, Haitian President Jovenel Moise late on Wednesday emerged to reaffirm his legitimacy and appeal for calm in a televised address.
The strike shut down most of Haiti on Wednesday as tension and uncertainty gripped the Caribbean country following the protests and Moise's unexplained absence from public view.
Haiti is the poorest country in the Americas and is still battling to overcome a years-old cholera epidemic and the aftermath of a major earthquake, alongside political turmoil.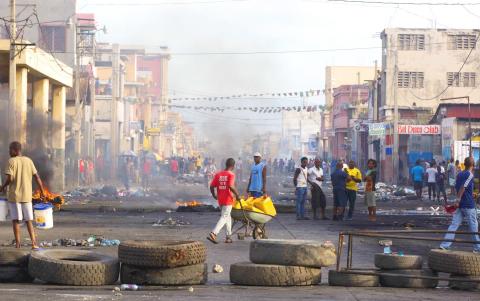 People walk amid roadblocks placed by anti-government protesters along Boulevard Jean-Jacques Dessalines, a main commercial artery, in Port-au-Prince on Wednesday.
Photo: AP
"During my five-year presidency no one, I emphasize no one, whatever the pretext, can threaten the interests of the country or put the nation in danger," said Moise, who has been in power since February last year.
Making his first public comments since the weekend protests, Moise said that dialogue must include all levels of society and that democracy "asks that the rules of the game be respected, according to the constitution."
He gave his six-minute address surrounded by Haitian Prime Minister Jean-Henry Ceant, the ministers of interior and justice, and national police leaders.
Moise had said nothing since Sunday's protests and was supposed to speak to the nation on Tuesday, but his appearance was canceled several hours after being announced, with no explanation given.
The breakdown in presidential communications was widely criticized on social media.
Schools, shops and private businesses were closed in main cities on Wednesday, in line with the opposition's call for a general strike.
As police patrolled empty main avenues in normally chaotic Port-au-Prince, burning barricades went up in some neighborhoods and sporadic gunshots set residents on edge.
At least three people were killed by gunfire during the mass protests over the weekend demanding Moise's resignation, the Haitian National Police said.
The opposition said 11 people lost their lives.
"We can no longer live like this, frustrated, because we know how people live in other countries," 30-year-old resident Jean Junior said, complaining that people lack "potable water, hospitals, housing" while the president only makes "promises that he doesn't keep."
In the upscale Petionville neighborhood, the only two gas stations open were besieged by motorcycle taxi drivers desperate to refuel.
Various opposition groups, arguing that the situation is out of control, have proposed ways to remove the president in order to resolve the crisis.
The protests were part of a sporadic movement that began during the summer over a scandal at the heart of a Venezuelan aid program known as Petrocaribe.
Through Petrocaribe, Venezuela for years supplied Haiti and other Caribbean and Central American countries with oil at cut-rate prices and on easy credit terms.
However, investigations by the Haitian Senate in 2016 and last year concluded that nearly US$2 billion from the program was misused.
A dozen of Haiti's former Cabinet ministers — all members of the current ruling party — have been implicated, but no legal proceedings have followed, sparking public anger.
Comments will be moderated. Keep comments relevant to the article. Remarks containing abusive and obscene language, personal attacks of any kind or promotion will be removed and the user banned. Final decision will be at the discretion of the Taipei Times.