Seoul cult leader jailed for rape
DIVINE POWER: A court found that Lee Jae-rock had raped the eight women who brought charges 'tens of times' and that they believed him to be a divine being
A South Korean cult leader yesterday was convicted of raping eight female followers — some of whom believed he was God — and was jailed for 15 years.
Pastor Lee Jae-rock's victims were "unable to resist as they were subject to the accused's absolute religious authority," Judge Chung Moon-sung told the Seoul Central District Court.
Religious devotion is widespread in South Korea, with 44 percent of people identifying themselves as believers.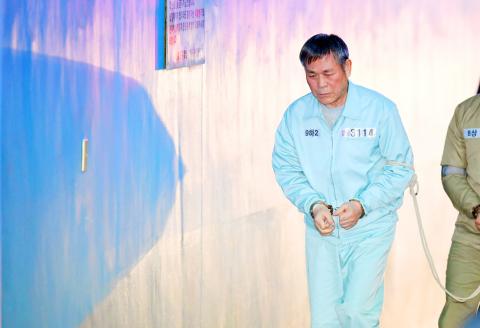 Pastor Lee Jae-rock yesterday arrives at the Seoul Central District Court in South Korea to attend his trial.
Photo: AFP
Most belong to mainstream churches, which can accumulate wealth and influence with tens of thousands of followers donating as much as 10 percent of their income.
However, fringe groups are also widespread — experts say that about 60 people in the country claim to be divine — and some have been implicated in fraud, brainwashing, coercion and other behavior associated with cults.
Lee set up the Manmin Central Church in Guro, once a poor area of Seoul, with just 12 followers in 1982. It has grown to 130,000 members, with a spotlight-filled auditorium, sprawling headquarters and a Web site replete with claims of miracle cures.
However, three of Lee's followers went public earlier this year describing how he had summoned each of them to an apartment and raped them.
"I was unable to turn him down," one of them told South Korean television.
"He was more than a king. He was God," added the woman, who had been a church member since childhood.
Lee told another that she was now in heaven and to strip, as Adam and Eve went naked in the Garden of Eden.
"I cried as I hated to do it," she told JTBC television.
Eight women filed criminal complaints and the court found that Lee raped and molested them "tens of times" over a long period.
"Through his sermons the accused has indirectly or directly suggested he is the holy spirit, deifying himself," the judge said.
The victims believed him to be "a divine being who wields divine power," he added.
The 75-year-old had denied the charges, his lawyers accusing the women of lying to seek vengeance after being excommunicated for breaching church rules.
About 100 followers filled the courtroom to overflowing, while former congregants denounced Lee outside.
"The Manmin Central Church is all about worshiping the pastor Lee Jae-rock," said Kim Yu-sun, who was a member for 20 years.
"Now that I go to a different church, I worship Jesus and pray to God," she added.
South Korea has proven fertile ground for religious groups with strong, unambiguous ideologies that offer comfort and salvation, which appeal strongly during times of deep uncertainty.
More recent versions have claimed a unique knowledge of the path to material and spiritual prosperity.
According to a 2015 government survey, 28 percent of South Koreans say they belong to Christian churches, with another 16 percent describing themselves as Buddhist.
However, about 2 million people are followers of cults, Korea Christian Heresy Research Institute president Park Hyung-tak said.
"There are some 60 Christian-based cult leaders in this country who claim to be the second coming of Jesus Christ or God himself," he said.
"Many cults point to megachurches mired in corruption and other scandals in order to highlight their own presumed purity and attract believers," he added.
The Manmin Central Church has been condemned as heretical by mainstream Christian organizations, partly because of its claims of miracle healing.
In one example on the church's Web site, Barbara Vollath, a 49-year-old German, said she was born deaf, but her bone cancer was cured and she gained hearing in both ears after Lee's daughter and heiress apparent Lee Soo-jin prayed for her with a handkerchief Lee Jae-rock had blessed.
Comments will be moderated. Keep comments relevant to the article. Remarks containing abusive and obscene language, personal attacks of any kind or promotion will be removed and the user banned. Final decision will be at the discretion of the Taipei Times.