Groups say detained Saudi Arabian advocates tortured
Amnesty International and Human Rights Watch on Tuesday accused Saudi Arabia of subjecting several advocates, including some female human rights defenders detained since May, to torture and sexual harassment.
More than a dozen women's rights advocates have been arrested since May, most of whom had campaigned for the right to drive and an end to the kingdom's male guardianship system, although some have since been freed.
A group of UN experts last month called for the immediate release of six female human rights defenders it said were still being held incommunicado in the kingdom.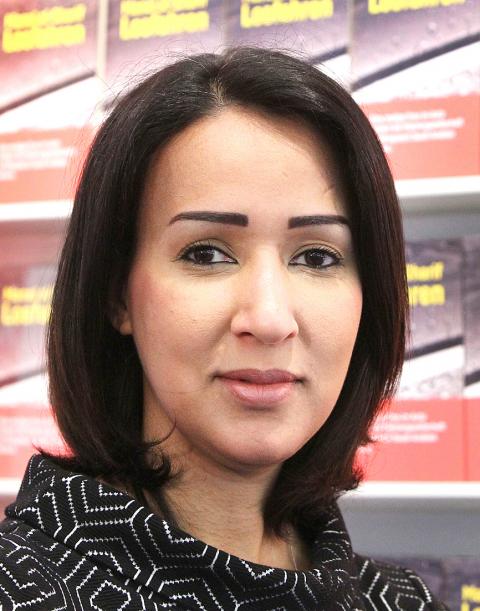 Saudi Arabian women's rights advocate and author Manal al-Sharif, who was arrested in 2011 after a driving protest, attends the Frankfurt Book Fair in Frankfurt am Main, Germany, on Oct. 11 last year.
Photo: AFP
The May arrests followed an earlier crackdown on clerics, intellectuals and advocates in September last year in an apparent bid to silence potential opponents of Saudi Arabia's de facto ruler, Crown Prince Mohammed bin Salman.
The torture allegations come with Saudi Arabia facing an international outcry over the killing last month of Saudi Arabian journalist Jamal Khashoggi in the Saudi Arabian consulate in Istanbul.
In a statement, London-based Amnesty said that according to testimony from three individuals it had gathered, some of the detained advocates "were repeatedly tortured by electrocution and flogging" that left some "unable to walk or stand properly."
In a similar statement, Human Rights Watch quoted "informed sources" as saying that Saudi Arabian interrogators tortured at least three female Saudi Arabian advocates. Both Amnesty and Human Rights Watch said the detainees were subjected to sexual harassment.
"Only a few weeks after the ruthless killing of Jamal Khashoggi, these shocking reports of torture, sexual harassment and other forms of ill-treatment, if verified, expose further outrageous human rights violations by the Saudi Arabian authorities," Amnesty International Middle East research director Lynn Maalouf said in the statement.
The allegations could not be verified and the rights groups did not clarify the identity of the individuals who provided testimony. Human Rights Watch said the sources were concerned that they and the advocates would suffer reprisals if identified publicly.
A Saudi Arabian government communications office did not immediately respond to a request for comment. Riyadh has in the past denied using torture and said that arrests were made on the basis of suspicious contacts with foreign entities and offering financial support to "enemies overseas."
In June, the Saudi Arabian government ended a decades-old ban on women driving cars as part of an effort to diversify the economy away from oil and open up residents' cloistered lifestyles.
However, while many hailed the end of the ban on women driving as proof of a new progressive trend, it has been accompanied by a crackdown on dissent.
Comments will be moderated. Keep comments relevant to the article. Remarks containing abusive and obscene language, personal attacks of any kind or promotion will be removed and the user banned. Final decision will be at the discretion of the Taipei Times.