Violators elected to UN rights body
Bahrain, Cameroon and the Philippines were among a number of nations controversially elected to the UN Human Rights Council on Friday, sparking sharp criticism from rights groups and the US.
About one-third of seats on the 47-member council, based in Geneva, Switzerland, were open for slots lasting from next year to 2022.
A 97-vote majority from the 193 nations that make up the UN General Assembly is needed for approval.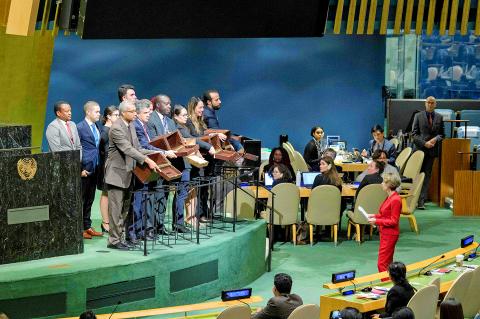 UN officials hold up empty ballot boxes before collecting ballots from delegates at the election of new members of the UN Human Rights Council at the UN headquarters in New York City on Friday.
Photo: AFP UN/Manuel ELIAS
For the first time since the council was created in 2006, each voting region agreed in advance on 18 candidates to be in the running for 18 seats — removing any competition.
New members Bahrain, Cameroon, the Philippines, Somalia, Bangladesh and Eritrea were elected with between 160 and 178 votes — and immediately drew criticism from rights advocates in Europe and North America dismissing them as "unqualified" due to their human rights records.
"By putting forward serious rights violators and presenting only as many candidates as seats available, the regional groups risk undermining the council's credibility and effectiveness," New York-based Human Rights Watch said.
'RIDICULOUS'
Louis Charbonneau, the group's UN director, called the vote "ridiculous" and said on Twitter it "makes mockery of [the] word 'election.'"
At the start of the voting session, the UN General Assembly President Maria Fernanda Espinosa said that every member state is allowed to apply for a seat.
Her spokesman later declined to directly address the criticism, but instead said: "It's clear that the world expects that members of international bodies will abide to a certain set of standards of behavior consistent with the bodies they have been elected to."
Five of the new members were from Africa, five from Asia, two from eastern Europe, three from Latin America and the Caribbean, and three from western Europe.
The US in June pulled out of the council, calling the organization a "hypocritical" body that "makes a mockery of human rights," in particular in regard to its stance on Israel.
Outgoing US Ambassador to the UN Nikki Haley said the vote demonstrates why the US was right to withdraw.
"Yet again, countries with poor human rights records ran uncontested. This lack of standards continues to undermine the organization," she said.
"The United States will continue to support reforms that would make the Human Rights Council credible," she added.
Comments will be moderated. Keep comments relevant to the article. Remarks containing abusive and obscene language, personal attacks of any kind or promotion will be removed and the user banned. Final decision will be at the discretion of the Taipei Times.