Trump expected to meet US pastor freed by Turkey
A US pastor freed after nearly two years of detention in Turkey was yesterday expected to meet US President Donald Trump at the White House.
The release of Andrew Brunson was a diplomatic triumph for Trump, who is counting on the support of evangelical Christians for Republican candidates in next month's midterm election.
Thousands of Trump's supporters on Friday night cheered when he informed them that Brunson was once again a free man.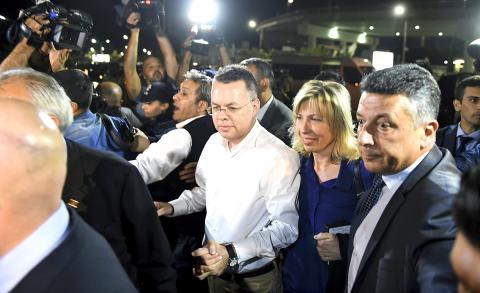 Andrew Brunson, center left, and his wife, Norine Lyn, arrive at Adnan Menderes Airport for a flight to Germany after his release following his trial in Izmir, Turkey, on Friday.
Photo: AP
"I'm really proud to report that earlier today we secured the release of pastor Andrew Brunson from Turkey," Trump said at a campaign rally in Ohio. "He is now free from jail and he is in the air heading to Germany, where he'll get offered a brief check and I think he's going to be in great shape. And then he's coming to Washington, DC, tomorrow and we'll say hello to him."
Brunson, a North Carolina native, was due to arrive at Joint Base Andrews near Washington at about noon yesterday.
"He went through a lot, but he's on his way back," added Trump, who had pressured the government of Turkey, a US ally, to release Brunson.
Trump also used the outcome to remind the audience of other detained Americans who regained their freedom under his leadership.
They include three Americans released this year by North Korea before Trump's historic meeting with North Korean leader Kim Jong-un and an Egyptian-American charity worker freed by Egypt last year.
"We bring a lot of people back and that's good," Trump said.
A Turkish court on Friday convicted Brunson of having links to terrorism and sentenced him to just more than three years in prison, but released the 50-year-old evangelical pastor because he had already spent nearly two years in detention. An earlier charge of espionage was dropped.
Hours later, Brunson was flown out of Turkey, his home for more than two decades.
He was being taken to a US military hospital in Landstuhl, Germany, for a medical checkup before the trip to Washington and the planned meeting with Trump.
"I love Jesus. I love Turkey," an emotional Brunson, who had maintained his innocence, told the court at Friday's hearing.
He tearfully hugged his wife, Norine Lyn.
With Brunson's release, Turkey might hope the US will lift tariffs on Turkish steel and aluminum imports, a move that would inject confidence into an economy rattled by high inflation and foreign currency debt.
However, Brunson's release does not resolve disagreements over US support for Kurdish fighters in Syria, as well as a plan by Turkey to buy Russian missiles.
Turkey is also frustrated by the refusal of the US to extradite Fethullah Gulen, a Pennsylvania-based Muslim cleric accused by Turkey of engineering a 2016 coup attempt.
Brunson was accused of committing crimes on behalf of Gulen and Kurdish militants who have been fighting the Turkish state for decades.
He faced up to 35 years in jail if convicted of all the charges against him.
Turkish President Recep Tayyip Erdogan had resisted US demands for Brunson's release, claiming that Turkish courts are independent.
However, he had suggested a possible swap involving Brunson and Gulen, who has denied organizing the coup attempt.
Comments will be moderated. Keep comments relevant to the article. Remarks containing abusive and obscene language, personal attacks of any kind or promotion will be removed and the user banned. Final decision will be at the discretion of the Taipei Times.