Malaysian by-election to pave way for Anwar's return
Malaysian People's Justice Party president Anwar Ibrahim yesterday set his sights on a return to frontline Malaysian politics as voting began in a by-election poll likely to seal the once jailed opposition figure's remarkable political resurrection.
Winning the seat is a key requirement for Anwar to succeed 93-year-old Malaysian Prime Minister Mahathir Mohamad, who jailed his former protege and heir apparent on sodomy and corruption charges in 1998 when their relationship soured.
Mahathir returned to the premiership this year after a shock election win, saying that he would stay in power for only two years before handing the reins to Anwar.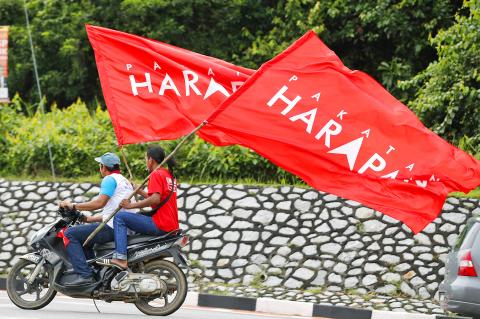 Supporters ride with flags of the Malaysian Alliance of Hope as former deputy prime minister Anwar Ibrahim arrives at a polling station in Port Dickson, Malaysia, yesterday.
Photo: AP
Anwar was in prison when he forged an unlikely alliance with Mahathir in a bid to unseat then-Malaysian prime minister Najib Razak, who had called elections for May amid massive corruption allegations.
Underscoring the drama of yesterday's vote, one of Anwar's six challengers was a former aide who also accused the then-opposition leader of sodomy, landing the 71-year-old in jail for a second time in 2014.
However, the charismatic politician is expected to eke out an easy win in the seat, which was vacated after a member of the ruling coalition stepped down to pave the way for Anwar's return.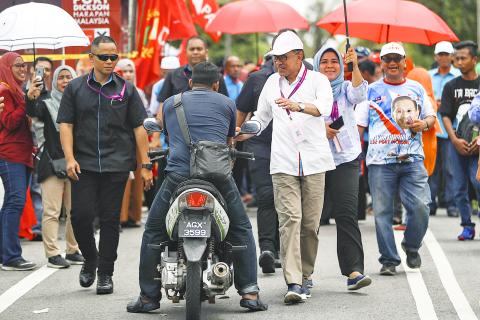 People's Justice Party president Anwar Ibrahim greets supporters during a parliamentary by-election in Port Dickson, Malaysia, yesterday.
Photo: EPA-EFE
Polls opened under cloudy skies at 8am in the sleepy southern coastal town of Port Dickson, home to a sizeable ethnic Chinese community, which across the country has traditionally been one of Anwar's pillars of support.
"We are voting for the next premier. We need an influential leader to bring long-overdue progress to Port Dickson," 60-year-old voter Lee Tian Hock said.
"This morning, I prayed to Allah for a big win for Anwar," said retired truck driver Mat Taib, a member of the country's ethnic Malay majority. "I want him to be our eighth prime minister."
Anwar campaigned hard over the past two weeks to secure a mandate in the multiracial constituency, promising voters development, clean government and a boost to local tourism.
The candidate has not discussed the accusations of sodomy — an act that is still illegal in largely Muslim Malaysia — while on the campaign trail.
He has always maintained the charges were trumped up to derail his political career, but he has campaigned doggedly on the multibillion-dollar graft scandal at state fund 1Malaysia Development Bhd, over which former leader Najib and his wife Rosmah Mansor face dozens of corruption charges.
Both face the prospect of spending the rest of their lives in jail in a scandal that saw Najib's coalition lose office for the first time since the country declared independence from the UK in 1957.
Political heavyweights including Mahathir have campaigned for Anwar in a road back to office that was unthinkable even six months ago. The duo went on stage together at one campaign event, prompting wild cheers from supporters.
After he was dumped as minister of finance and jailed in the 1990s, Anwar led a reformist opposition movement while fighting to overturn his convictions. Mahathir, his mentor turned tormentor and now ally, came back from retirement to lead the Alliance of Hope coalition that won power in May.
Comments will be moderated. Keep comments relevant to the article. Remarks containing abusive and obscene language, personal attacks of any kind or promotion will be removed and the user banned. Final decision will be at the discretion of the Taipei Times.