Turkish newspaper names Saudis in Khashoggi case
THE FIFTEEN: A Turkish security source said 15 Saudi Arabian nationals arrived in Istanbul and entered the consulate on the same day as Khashoggi went there
Turkish pro-government newspaper Sabah yesterday said it had identified a 15-member intelligence team that it said was involved in the disappearance of prominent Saudi Arabian journalist Jamal Khashoggi.
Khashoggi was last seen a week ago entering the Saudi Arabian consulate in Istanbul to get documents related to his forthcoming marriage.
His fiancee, waiting outside, said he never emerged and Turkish sources said that they believe Khashoggi, a prominent critic of Saudi policies, was killed inside the mission.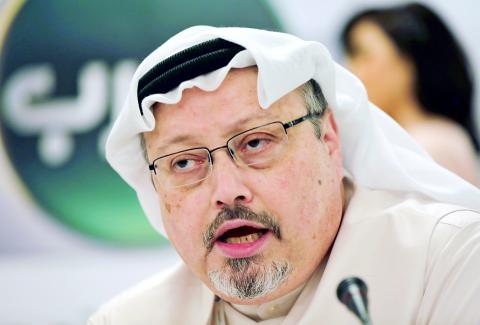 Saudi Arabian journalist Jamal Khashoggi speaks during a news conference in Manama, Bahrain, on Feb. 1, 2015.
Photo: AP
Saudi Arabia has dismissed as baseless accusations that it killed or abducted Khashoggi.
Saudi Arabian authorities have so far not commented on the 15 nationals reported to have come to Turkey.
A Turkish security source had previously told reporters that a group of 15 Saudi Arabian nationals, including some officials, arrived in Istanbul and entered the consulate on Oct. 2, the same day that Khashoggi was there, and later left the country.
Sabah published the names and years of birth of 15 Saudis that it said arrived at Istanbul Ataturk Airport on Oct. 2.
Twelve of them arrived early on Tuesday last week, based on photographs captured at passport control, which the newspaper published.
The 15 departed at four different times, Sabah reported, but did not say how it obtained the photographs and data.
The report also said that the Saudi Arabians stayed at the Wyndham and Movenpick hotels in Istanbul, in the same neighborhood as the Saudi Arabian consulate.
The hotels declined to comment on the report.
One of the men identified by name and photograph in the Sabah report is a Saudi forensic expert, according to Saudi Arabian media reports, and is on the board of the Saudi Society of Forensic Medicine.
The Turkish NTV television channel broadcast videos of what it said were the men arriving at the airport and checking into one hotel, as well as videos of what it said was a large van arriving at the consul general's residence two hours after Khashoggi had entered the consulate.
Comments will be moderated. Keep comments relevant to the article. Remarks containing abusive and obscene language, personal attacks of any kind or promotion will be removed and the user banned. Final decision will be at the discretion of the Taipei Times.