Trump factor aids campaigns: Amnesty head
The leader of Amnesty International said human rights movements are being galvanized globally by the actions of US President Donald Trump.
Kumi Naidoo, who took over as Amnesty International's secretary-general last month, told reporters in an interview that the policies of the Trump administration have fueled campaigns on climate change, women's equality and other issues that predated his presidency.
The South African-born Naidoo, who formerly headed environmental group Greenpeace, identified climate change and authoritarian governments — what he described as a "slide toward fascism" — as major threats to human rights and wellbeing globally.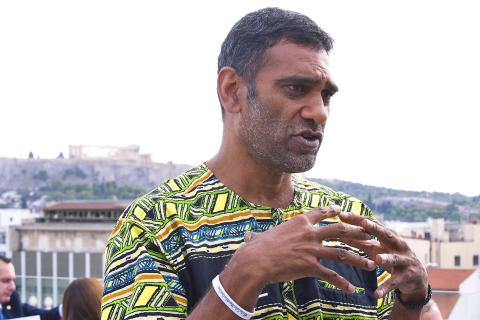 Amnesty International secretary-general Kumi Naidoo speaks in front of the Acropolis in Athens on Friday.
Photo: AP
"I would say, quite bluntly, is that most of our political and business leadership around the world is suffering from a very bad case of cognitive dissonance, by which I mean a denial of reality," he said.
At the same time, Naidoo said he thinks the oversized attention the US president attracts also helps moderate Trump's disorienting influence.
"If you look at Donald Trump, for example, he essentially has been the biggest mobilizer of the climate movement, the women's movement, [and] people of color," Naidoo said.
Trump has opposed US participation in a climate agreement and his critics have organized worldwide demonstrations focused on women's rights since he took office.
"The optimism for me is that young people, I've never seen the level of young people being mobilized around the world," Naidoo said. "I've never seen the level of women being mobilized around the world."
Naidoo was in Greece to visit a severely overcrowded refugee camp on the island of Lesbos.
He called on Greece and the EU to back an emergency evacuation of the site before winter over concerns that conditions there are unsafe.
His trip coincided with the release of a 44-page Amnesty International report on hardships facing female refugees in Greece.
Comments will be moderated. Keep comments relevant to the article. Remarks containing abusive and obscene language, personal attacks of any kind or promotion will be removed and the user banned. Final decision will be at the discretion of the Taipei Times.