Labour Party to reject May's Brexit deal
ALL ALTERNATIVES: Spokesman Keir Starmer said another public vote in which staying in the EU would be an option would be necessary if parliament rejects the PM's plan
Britain's main opposition Labour Party yesterday said it would reject British Prime Minister Theresa May's proposed Brexit deal with the EU when it comes to a vote in parliament.
If Britain and the EU agree on a deal, it must be approved by individual nations before Britain leaves. In the UK that means a vote by lawmakers, and the math looks ominous for May's government, which lacks an overall majority.
Labour Brexit spokesman Keir Starmer said the party would reject a deal along the lines May is proposing because it does not meet "six tests" it has set, including protecting workers' rights and retaining access to European markets.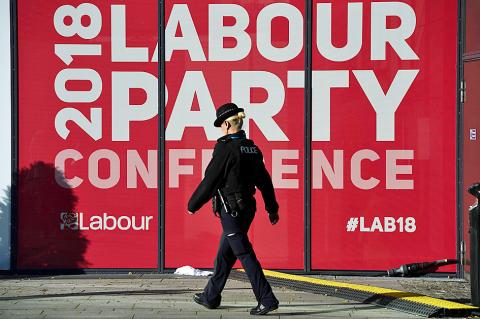 A policewoman yesterday walks past a banner for the Labour Party Conference at the conference hall in Liverpool, England.
Photo: AFP
Starmer told the told the BBC that May's negotiations with the bloc were "chaotic and failing."
"We cannot carry on with this idea that the prime minister can bring back any deal that she cobbles together and we must all vote for it however awful it is, because something even worse will happen if we don't," Starmer said.
"If Theresa May brings back a deal that does not meet our tests — and that looks increasingly likely — Labour will vote against her deal. No ifs, no buts," he told Labour's annual conference in Liverpool.
If parliament votes down May's deal, or she fails to reach an agreement, all alternatives must be on the table, including another public vote in which remaining in the EU is an option, he said in his speech.
He also said that if parliament rejected the deal there should be a new election, though it is unclear where that would leave the Brexit negotiations.
With Britain due to leave the EU in six months, on March 29, and negotiations at an impasse, Labour leaders are under pressure from members to back a new referendum on Britain's EU membership.
Delegates at Labour's annual conference were yesterday expected to back a motion leaving that option open, but not calling for it directly.
EU leaders rejected the Conservative government's blueprint for future trade ties at a fractious summit in the Austrian city of Salzburg on Thursday last week.
It seeks to keep the UK in the EU single market for goods but not for services, to ensure free trade with the bloc and an open border between Northern Ireland and EU member Ireland.
However, EU officials say that amounts to unacceptable "cherry-picking" of elements of membership in the bloc without accepting all the costs and responsibilities.
The Salzburg rebuff left May under siege from Brexit-supporting in her Conservative Party, who want her to seek a looser relationship based on a bare-bones free trade agreement that would leave Britain free to strike new deals around the world.
May is sticking by her plan. After a meeting of the Cabinet on Monday, May's Downing Street office said hers is "the only plan on the table ... and she remains confident of securing a deal with the EU."
Additional reporting by Reuters
Comments will be moderated. Keep comments relevant to the article. Remarks containing abusive and obscene language, personal attacks of any kind or promotion will be removed and the user banned. Final decision will be at the discretion of the Taipei Times.