'Modicare' starts in India to cover nation's poorest
Indian Prime Minister Narendra Modi on Sunday launched the world's biggest health insurance scheme, promising free coverage for half a billion of India's poorest citizens ahead of national elections next year.
The bottom 40 percent of India's 1.25 billion people would be covered under the flagship program, dubbed "Modicare," unveiled in the federal budget earlier this year.
The 100 million lowest-income families will be provided 500,000 rupees (US$6,900) in annual health insurance to treat serious ailments.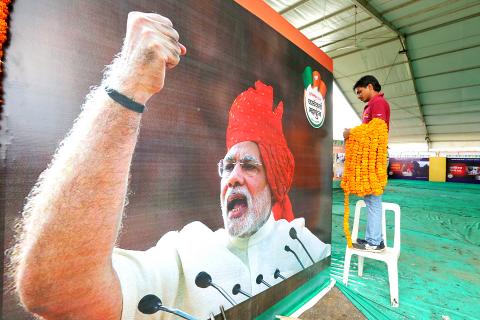 A worker on Sunday prepares floral decorations next to a poster of Indian Prime Minister Narendra Modi in Bhopal ahead of a Bharatiya Janta Party rally scheduled for today that Modi is scheduled to attend.
Photo: EPA-EFE
Modi handed medical cards out at the launch in Ranchi, capital of the eastern state of Jharkhand, calling it a historic day for India.
"We want to strengthen the hands of the poor and stand shoulder to shoulder with them in pursuit of good health," he posted on Twitter.
The scheme is expected to cost the central and 29 state governments US$1.6 billion per year in total, and funding is to be increased gradually according to demand.
India's overburdened public health system is plagued by a shortage of facilities and doctors and most people use private clinics and hospitals if they can afford to.
More than 60 percent of the average family's spending goes on medicines and healthcare, the government estimates. Many of the poorest just go without care.
A report published this month by The Lancet medical journal found substandard healthcare was responsible for an estimated 1.6 million deaths a year in India — the highest in the world.
Critics have questioned how the government plans to fund such an enormous safety net.
"This is going to be another scam. It will benefit only private insurance companies. The citizen of the country will realize later that it is nothing but an election gimmick," said Sanjay Nirupam from the main opposition Congress Party.
However, K. K. Aggarwal, a cardiologist and former president of the Indian Medical Association, said "politicking over the scheme should stop."
Comments will be moderated. Keep comments relevant to the article. Remarks containing abusive and obscene language, personal attacks of any kind or promotion will be removed and the user banned. Final decision will be at the discretion of the Taipei Times.