'Kinky Boots' wraps up taboo-breaking two-month run in conservative China
Sign language interpreters swung their hips and gestured at deaf audience members to the rhythm of a rollicking performance by drag queens singing and dancing on stage behind them.
Nothing surprising for a Broadway show, except this was China.
The Tony award-winning musical Kinky Boots has broken new ground in the socially conservative nation.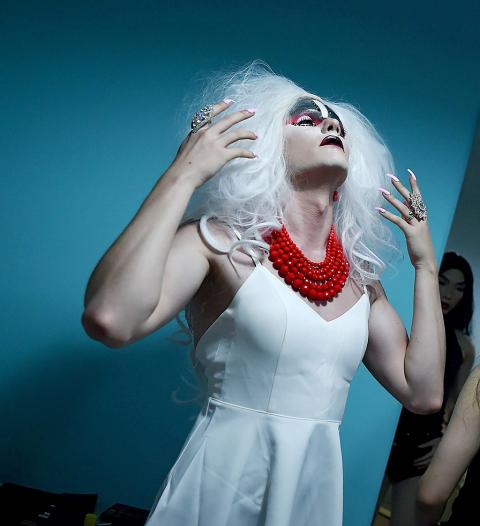 A drag performer prepares backstage before a show in Beijing on Wednesday last week.
Photo: AFP
The show has filled theaters in Beijing, Shanghai and Guangzhou, lighting up audiences in a country where LGBT-themed entertainment is often censored and rarely gets major — if any — billing.
It has also reached a broader audience than usual in China: Kinky Boots was the first musical to offer sign language interpreters for the hearing-impaired in the country.
"It's very inspiring because for many years for me as a deaf person, subtitles were the only thing available in a theater, but now I've got access to the whole show," Yang Junhui told reporters at a performance in Beijing.
Interpreters memorized the entire show and never looked back at the stage as they translated the musical for the deaf audience, matching the gestures of the rhythm of the music and the dance moves.
They hugged at the same time as the performers, made forlorn faces when a character's heart was broken and extended an inviting hand followed by a fist pump when the drag queens sang "everybody say yeah."
"We really hope to make [shows] more accessible, to engage the deaf in various kinds of social settings and let them enjoy the same level of joy as I do," interpreter Tang Wenyan said.
Kinky Boots, with music and lyrics were by pop veteran Cyndi Lauper, was to wrap up its two-month China tour yesterday — a long run for a country where censors often frown upon gay entertainment.
China decriminalized homosexuality in 1997 and withdrew it from its list of mental illnesses in 2001. Same-sex marriage remains illegal.
Gay-themed films struggle to make it into movie theaters, same-sex relationships are banned from TV screens and gay content is forbidden on online streaming platforms.
Oscar-winning Call Me by Your Name, the story of a summer romance between two young men in Italy, was pulled from the Beijing International Film Festival in March.
Another film about a secret homosexual relationship, Looking for Rohmer, was heavily edited for Chinese movie theaters this year.
Online video service MangoTV cut out a gay-themed dance from its broadcast of the Eurovision Song Contest in May. It also blurred out rainbow flags in the audience.
Kinky Boots tells the story of a shoe factory worker who saves the business from bankruptcy by teaming up with a drag queen named Lola who wants red, thigh-high stiletto boots.
Lin Jianhao, a fan who saw the musical seven times, went to the show dressed up in a skirt, heels and a wig, and wearing makeup.
A character like Lola who "dares to be herself, despite misunderstanding or bias from others" makes it easy to accept even for people in a country who have not been exposed to transgender culture, he said.
"The Kinky Boots crew members gave me energy and confidence. They even encouraged me to audition for the show in New York," Lin said. "They told me that nothing is impossible in this era, 'believe in yourself.'"
"More importantly, during this process, I came to realize how difficult life can be for a transgender and a drag queen," Lin said. "Everyone should believe that they can be themselves."
Away from the large theater that hosted Kinky Boots, Chinese drag queens perform in dimly lit local nightclubs where they do their makeup and hair themselves.
Chinese drag performer Charlie Van de Ho is among a handful of drag queens who put on a show every Wednesday night at a local club in a bustling Beijing bar street.
Kinky Boots could "bring something new" to the country, Charlie said. "Let people realize that things in the world are diverse, not that unitary."
On a recent evening, dozens of people cheered as the drag queens lip-synced and danced to Christina Aguilera songs.
Jos Banks, who plays Lola in the musical, said that it was a "beautiful thing that this culture" was getting a spotlight in China.
"It's a story about love and acceptance," Banks said. "And that's something that we all need."
Comments will be moderated. Keep comments relevant to the article. Remarks containing abusive and obscene language, personal attacks of any kind or promotion will be removed and the user banned. Final decision will be at the discretion of the Taipei Times.