Iraq vows crackdown after protests
BUILDINGS BURNED: The Joint Operations Command said 'exceptional security measures,' including banning protests and group travel, would be implemented
Iraqi protesters on Friday torched the Iranian consulate in the southern city of Basra in fresh demonstrations over poor public services after the Iraqi parliament called for an emergency session on the unrest.
Unidentified attackers also fired shells into Baghdad's fortified Green Zone in a rare attack on an area that houses parliament, government offices and the US embassy.
There were no casualties.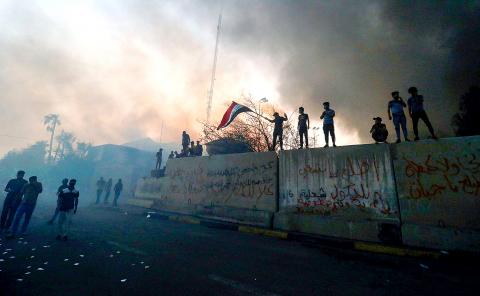 Protesters wave an Iraqi flag outside burning local government buildings in Basra, Iraq, on Friday.
Photo: AFP
Basra has seen a surge in protests since Tuesday, with demonstrators torching government buildings, as well as political party and militia offices, as anger boils over after the hospitalization of 30,000 people who had drunk polluted water.
At least nine demonstrators have been killed since then in clashes with security forces, Mehdi al-Tamimi, head of Basra's human rights council, has said.
In a bid to quell the violence, Iraqi Prime Minister Haider al-Abadi late on Friday said that he had instructed security forces to "act decisively against the acts of vandalism that accompanied the demonstrations."
Iraq's Joint Operations Command, which includes the army and police, said in a statement that there would be a "severe" response with "exceptional security measures," including banning protests and group travel.
The wave of protests first broke out in July in oil-rich Basra Province before spreading to other parts of the country, with demonstrators also saying there was corruption among Iraqi officials, while demanding jobs.
"We're thirsty, we're hungry, we are sick and abandoned," protester Ali Hussein told reporters on Friday after another night of violence. "Demonstrating is a sacred duty and all honest people ought to join."
Thousands of demonstrators rallied outside the Iranian consulate on Friday, while hundreds stormed the building and set it on fire, a photographer said.
A spokesman for the consulate said that all diplomats and employees were evacuated from the building before the protesters attacked and that none of them were hurt.
The Iraqi Ministry of Foreign Affairs called the attack against the consulate "an unacceptable act undermining the interests of Iraq and its international relations."
Iranian Ministry of Foreign Affairs spokesman Bahram Ghassemi denounced the incident as a "savage attack," according to Iranian news agency Fars.
Iran is a key power broker in Iraq and many of the militias and political parties whose offices were torched on Thursday are known to be close to the Islamic republic.
Parliament said that lawmakers and ministers, including al-Abadi, were to meet yesterday to discuss the water contamination crisis.
The meeting was demanded by populist Shiite cleric Moqtada al-Sadr, whose political bloc won the largest number of seats in elections in May, although a new government has yet to be formed.
Sadr, whose supporters in 2016 held protests inside the Green Zone to condemn corruption among Iraqi officials, called for "demonstrations of peaceful anger" in Basra after the main weekly Muslim prayers on Friday.
The representative of Grand Ayatollah Ali Sistani, spiritual leader of Iraq's Shiite majority, in his Friday sermon denounced "the bad behavior of senior officials" and called for the next government to be "different from its predecessors."
At least 24 people have been killed in the demonstrations since they began in Basra on July 8.
Comments will be moderated. Keep comments relevant to the article. Remarks containing abusive and obscene language, personal attacks of any kind or promotion will be removed and the user banned. Final decision will be at the discretion of the Taipei Times.