Lula barred from Brazil vote
Former Brazilian President Luiz Inacio Lula da Silva has been barred from next month's presidential election by the country's electoral court, despite easily leading in the polls — a ruling that adds uncertainty to the race to lead Latin America's largest nation, leaving no clear favorites.
In a session that stretched into the early hours of yesterday, the justices voted 6-1 against the once hugely popular president, who is imprisoned on a corruption conviction he claims is a sham.
Lula's left-leaning Workers' Party issued a statement vowing to appeal, but there appeared to be scant chance it would succeed.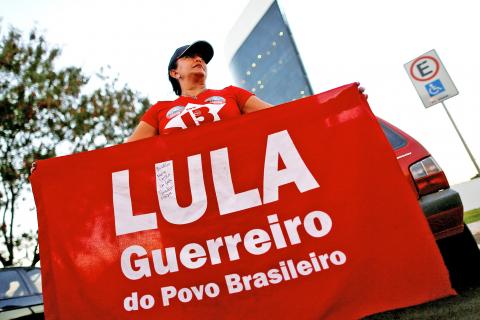 A supporter of former Brazilian president Luiz Inacio Lula da Silva holds a banner that reads "Lula: Warrior of the Brazilian people" at a protest in front of the Superior Electoral Court in Brasilia on Friday.
Photo: Reuters
That would seem to leave the party's fortunes in the hands of its vice presidential candidate Fernando Haddad, a former Sao Paulo mayor who so far has polled in single digits and would have to count on the borrowed charisma of Lula to succeed.
Brazilian Supreme Court Justice Luis Roberto Barroso cast the first vote against Lula, forbids candidates whose conviction has been upheld on appeal.
"There is no margin here for the electoral court to make any other evaluation, but the one showing there is a conviction and that conviction matters in the candidate's eligibility," Barroso said.
Justice Edson Fachin disagreed, citing a recent call by a UN human rights committee calling for Lula to be allowed to run while he further appeals his conviction.
Even as the justices were debating, the Workers' Party put out ads on social media channels featuring Lula, holding fast to a strategy to keep the former president front and center as long as possible.
The former firebrand union leader led Brazil during a booming period from 2003 and 2010, promoting social policies that pulled millions from poverty.
Former US president Barack Obama once called him the "most popular politician on Earth."
However, Lula and party have lost much of that appeal over the past several years due to a stumbling economy under his hand-picked successor, former Brazilian president Dilma Rousseff, and a sprawling corruption probe that has ensnared many top businessmen and politicians, including Da Silva.
The 72-year-old ex-president is serving a 12-year sentence for corruption and money laundering after being convicted of trading favors with construction company Grupo OAS in exchange for the promise of a beach house apartment.
Barroso said the Workers' Party should replace Lula within 10 days, and that he should not appear as a presidential candidate in free airtime that is given to political parties on nationwide TV and radio starting yesterday.
In a statement late on Friday, the party said it would appeal the electoral court ruling, just as Lula was fighting to overturn his corruption conviction.
Comments will be moderated. Keep comments relevant to the article. Remarks containing abusive and obscene language, personal attacks of any kind or promotion will be removed and the user banned. Final decision will be at the discretion of the Taipei Times.