Church in Beijing faces CCTV cameras and eviction
The Zion Church in Beijing, one of the city's largest unofficial Protestant "house" churches, has operated with relative freedom for years, hosting hundreds of worshipers every weekend in an expansive, specially renovated hall in north Beijing.
However, in April, city authorities asked the church to install 24 closed-circuit television (CCTV) cameras in the building for "security," head pastor Jin Mingri (金明日) said.
"They wanted to put cameras in the sanctuary where we worship. The church decided this was not appropriate," Jin said over tea in his spacious, book-lined office. "Our services are a sacred time."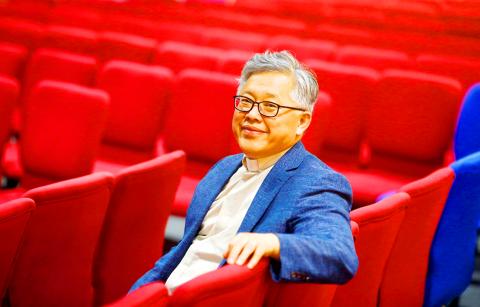 Jin Mingri, the head pastor of the Zion Church sits in the congregation hall of the unofficial Protestant "house" church in Beijing, China, on Tuesday.
Photo: REUTERS
When the request was refused, police and state security agents started harassing churchgoers, calling them, visiting them, contacting their workplaces and asking them to promise not to go to church, according to statements from the church and interviews with attendees.
China's constitution guarantees religious freedom, but since Chinese President Xi Jinping (習近平) took office in 2012, Beijing has tightened restrictions on religions seen as a challenge to the authority of the Chinese Communist Party (CCP).
China's religious affairs bureau, which now falls under the United Front Work Department, and the Ministry of Public Security did not respond to faxed requests for comment.
The Chinese government says greater oversight of religious activities is needed in order to regulate believers and facilitate worship, as well as to prevent foreign forces from influencing internal affairs using the guise of religion.
China's Christian believers are split between those who attend unofficial "house" or "underground" churches and those who attend government-sanctioned places of worship.
The unofficial establishments, which range from small living-room gatherings to large, professional operations like Zion, had in recent decades been tolerated by authorities.
They were often able to rent large spaces, although these were rarely identifiable from the outside. The only church exteriors in China adorned with steeples or crosses are officially sanctioned.
In February, new legislation increased oversight of religious education and practice, with harsher punishment for practices not sanctioned by the authorities.
In addition to being asked to install security cameras, some unofficial churches have been asked by police to take detailed lists of attendee IDs and telephone numbers, churchgoers and activists said.
Some who push back have been visited by police and asked to switch places of worship to officially sanctioned churches, they added.
The Zion church, which occupies an office building floor that was previously a nightclub, is being evicted despite previous verbal assurances from its landlord that it could rent the location until 2023, Jin said.
The landlord could not be reached for comment.
Jin does not expect to find a landlord that will rent the church another suitable location, he said.
There are about 60 million Christians in China, most of them Protestant, with about 10 million Catholics, independent estimates show.
The Vatican and Beijing are locked in talks to resolve a dispute over appointing bishops in China that, if resolved, could make underground Catholic churches official, with Holy See-approved bishops
On July 23, more than 30 of Beijing's hundreds of underground Protestant churches took the rare step of releasing a joint statement complaining of "unceasing interference" and the "assault and obstruction" of regular activities of believers since the new regulations came into effect, a copy of the statement, which was confirmed by Jin, showed.
"We call on the government to respect history and the current situation of house churches, respect the means and practices of religious work, and respect citizens' basic freedoms and rights to believe," the letter said.
Wang Yu (王宇), a prominent rights lawyer who has defended Christians from harassment and was recently baptized at Zion after years of worship there, said she believes the pressure on believers is an attempt to force the church to close.
"The authorities hope numbers will dwindle till it becomes impossible to continue, but in recent months ever-more churchgoers have been attending service," she said.
However, Wang fears the situation will worsen, given the authorities have started describing the church as a "cult" when pressuring churchgoers, she said.
In one of its statements, the church also says authorities have called it a cult.
"Being labeled a cult was how it all started for the Falun Gong in 1999," Wang said, referring to the spiritual movement the CCP banned that year.
The new regulations have increased government pressure on the churches to "Sinicize" — to be culturally Chinese and submit to oversight from the CCP — but many have resisted, saying this would be a fundamental betrayal of their faith.
"House churches believe that our spiritual needs and the content of our faith is ruled over by God," Jin said. "What we need is the freedom to believe. Without this, it is not real faith."
Comments will be moderated. Keep comments relevant to the article. Remarks containing abusive and obscene language, personal attacks of any kind or promotion will be removed and the user banned. Final decision will be at the discretion of the Taipei Times.