Indian rights activists arrested
INTIMIDATION? More than 20 civil rights groups, lawyers, forums and trade unions are launching a campaign against the crackdown, describing it as an attempt to stifle dissent
The arrest of five prominent human rights activists in raids across India for suspected links to Maoist guerrillas yesterday ignited allegations that Indian Prime Minister Narendra Modi's administration is trying to intimidate its critics.
More than 20 civil rights groups, lawyers, forums and trade unions are launching a campaign against Tuesday's crackdown, describing it as Modi's latest attempt to stifle dissent and shore up his standing.
Police also accused the five of inflammatory speeches at a rally in western India last year, which led to violent clashes between the oppressed Dalit community and right-wing organizations.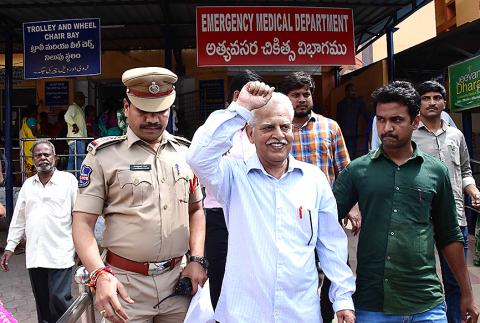 Indian poet and activist Varara Rao, center, is escorted by police after his arrest in Hyderabad, India, on Tuesday.
Photo: AFP
Laptops, mobile phones and even passwords were taken away during the raids at her home, said trade union activist Sudha Bharadwaj, who has been fighting for the rights of workers in parts of India such as Chhattisgarh, where left-wing guerrilla groups operate.
The arrests follow months of tensions between right-wing nationalist groups and advocates of free speech that has played out in college campuses and spilled over into the streets.
Police said they would later yesterday produce Bharadwaj and the four other activists arrested. The others were Varavara Rao, a prominent poet from the southern city of Hyderabad, activists Vernon Gonsalves and Arun Ferreira from Mumbai, and civil liberties activist Gautam Navlakha from New Delhi.
"The accused are booked under the Unlawful Activities Prevention Act," said a police officer in the western city of Pune.
He said the main case relates to a rally held there on Dec. 31 last year commemorating the valor of Dalits, where provocative speeches were delivered. The following day, violent clashes broke out between Dalits and hardline Hindu groups.
Opposition Congress party leader Rahul Gandhi said the raids showed that the government has little tolerance for activists, except for right-wing groups that shared its hard-line ideology.
"Shut down all other NGOs [non-governmental organizations]. Jail all activists and shoot those that complain. Welcome to the new India," he said on Twitter.
Comments will be moderated. Keep comments relevant to the article. Remarks containing abusive and obscene language, personal attacks of any kind or promotion will be removed and the user banned. Final decision will be at the discretion of the Taipei Times.