Tariffs working 'better than anticipated'
'BIG DOLLARS': The tariffs would hurt US families and farmers more than they would hurt China, a major trade group said as Donald Trump took credit for new steel jobs
US President Donald Trump on Saturday defended his controversial use of tariffs against China and other countries, saying the trade measures are "working far better than anyone ever anticipated."
"Tariffs have had a tremendous positive impact on our Steel Industry," he tweeted. "Plants are opening all over the US, Steelworkers are working again, and big dollars are flowing into our Treasury."
"Tariffs will make our country much richer than it is today," Trump wrote in another tweet. "Only fools would disagree."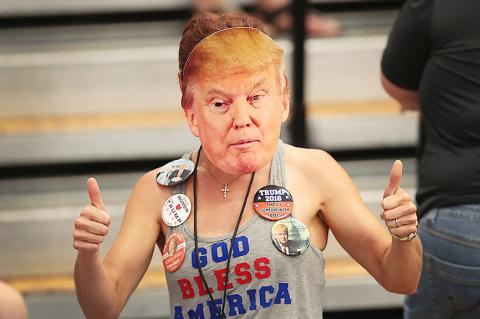 A woman wearing a mask of US President Donald Trump attends a rally in Lewis Center, Ohio, on Saturday.
Photo: AFP
China was "for the first time doing poorly against us," he wrote.
His tweets came amid a new surge in trade tensions with China.
Trump last week told his top trade official to study whether to raise tariffs on US$200 billion of Chinese goods from a planned 10 to 25 percent.
Beijing then threatened to impose an additional US$60 billion in tariffs on a variety of US goods — which White House economic adviser Larry Kudlow dismissed as "a weak response."
Chinese Minister of Foreign Affairs Wang Yi (王毅) called his country's threat "fully justified and necessary."
Speaking on the sidelines of a security forum in Singapore, he hit back at Kudlow's remarks, saying: "As to whether China's economy is doing well or not, I think it is all too clear to the whole international community," Wang said, adding that China contributed a huge amount to global economic growth.
The growing friction between the US and China has raised concerns in both countries — and reportedly even within the Trump administration — about collateral damage.
"We said before that this round of tariffs amounted to doubling down on the recklessness of imposing trade policy that will hurt US families and workers more than they will hurt China," a major trade group, the National Retail Federation, said in a statement last week.
While Trump has taken credit for new steel jobs created with the help of tariffs, retaliatory measures by Beijing and others have rattled US soybean farmers and the many companies reliant on increasingly expensive steel as a raw material.
Later on Saturday, Trump said that Republicans needed to control the US Congress by casting November's midterm elections as a referendum on himself.
In a raucous rally in a sweltering gymnasium north of Columbus, Ohio, Trump pitched for a Republican candidate up in a special election next week and defiantly questioned the idea that, historically, the party that controls the White House suffers in the midterms, declaring: "But I say: 'Why?'"
"Why would there be a blue wave? I think it could be a red wave," Trump said of his party's prospects in November. "They want to take away what we've given. And we're doing a lot of things people don't even know about."
Although boisterous and bellicose, Trump steered clear of the trouble he stirred up the night before, when he blasted one of Ohio's favorite sons, LeBron James.
In a late-night tweet, Trump derided the intelligence of one of the nation's most prominent African-American men.
The attack on James, who has been critical of Trump, came just as the NBA superstar opened up a school for underprivileged children.
Comments will be moderated. Keep comments relevant to the article. Remarks containing abusive and obscene language, personal attacks of any kind or promotion will be removed and the user banned. Final decision will be at the discretion of the Taipei Times.