Bus crash turns up bag of cash
Authorities investigating a deadly commercial passenger bus crash along a New Mexico highway on Friday said one of the passengers was carrying a backpack filled with nearly US$100,000 in cash.
Sandoval County Sheriff's Lieutenant Keith Elder confirmed during a news conference that the money was discovered after the passenger was transported to an Albuquerque hospital, where numerous other people and their belongings were taken following the crash.
The discovery has prompted a separate investigation, Elder said.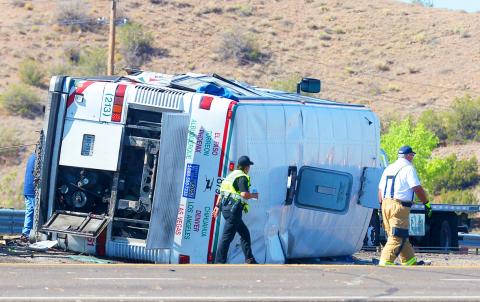 Emergency personnel work at the scene of a deadly multi-vehicle crash involving a bus that occurred on Interstate 25 north of Bernalillo, New Mexico, on Sunday last week.
Photo: Albuquerque Journal via AP
He had no other information about the passenger or the money.
The passenger was among nearly 30 people who were early on Sunday injured when the bus rolled and was hit by another vehicle and then sideswiped by a semi-truck along Interstate 25.
The bus driver lost control while trying to avoid another crash.
The three bus passengers who were killed were all women from Mexico who lived in Colorado.
Authorities said it took some time to identify the victims as none of the women had personal identification on them and the passengers' personal effects had been strewn throughout the bus and along the roadway.
Some of the names given by family members also did not match the names associated with the ticket purchases, Elder said.
Authorities said the identification process was further complicated as the bus company tracked only those passengers who boarded at various stops before the crash, not those who got off the bus.
The bus was traveling from Denver to El Paso, Texas. Authorities said it also made stops in other Colorado and New Mexico cities.
The wreckage from the bus, semi-truck and other vehicles was scattered across both sides of the interstate, forcing the roadway's closure for several hours.
Comments will be moderated. Keep comments relevant to the article. Remarks containing abusive and obscene language, personal attacks of any kind or promotion will be removed and the user banned. Final decision will be at the discretion of the Taipei Times.