Chinese find might show ancestors left Africa earlier
Stone tools recovered from an excavation in China suggest that our evolutionary forerunners trekked out of Africa earlier than believed.
Until now, the oldest evidence of human-like creatures outside Africa came from 1.8-million-year-old artifacts and skulls found in the Georgian town of Dmanisi, but the new find pushes that back by at least 250,000 years.
"It's absolutely a new story," said archeologist Michael Petraglia of the Max Planck Institute for the Science of Human History in Jena, Germany, who did not participate in the study. "It means that early humans were getting out of Africa way earlier than we ever realized."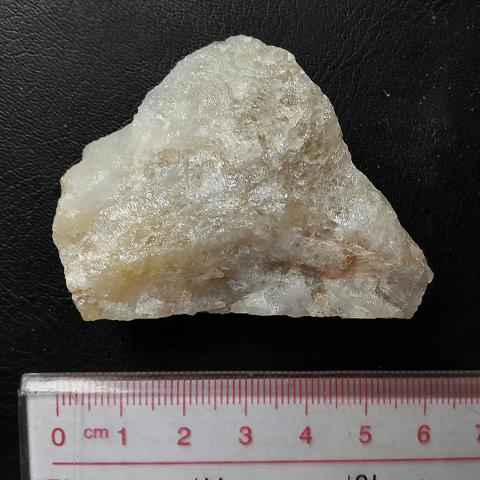 A potential stone tool that was found in China's Loess Plateau area is pictured on Feb. 28.
Photo: AP
That exit came long before Homo sapiens even appeared. The researchers believe the tools were made by another member of the Homo evolutionary group.
The items included several chipped rocks, fragments and hammer stones. The 96 artifacts were dug up in an area known as the Loess Plateau, north of the Qinling Mountains, which divide the north and south of China.
Some of them were as old as 2.1 million years, according to the study that was published in Nature on Wednesday.
"We were very excited," said Zhu Zhaoyu (朱照宇), a professor at the Guangzhou Institute of Geochemistry who led the field work. "One of my colleagues suddenly noticed a stone embedded in a steep outcrop. After a short while, more artifacts were found — one after another."
The tools were distributed throughout layers of dirt, suggesting that our unidentified ancient relatives came back to the same site over and over, possibly following animals to hunt.
Researchers also found bones of pigs and deer, but were not able to provide proof that the tools were used for hunting.
Some experts not involved in the research think that the findings need to be viewed with caution.
"I am skeptical," said Geoffrey Pope, an anthropologist from William Paterson University in New Jersey. "I suspect this discovery will change very little."
Sometimes nature can shape stones in a way that they look as if they were manufactured by hand, he said, adding that for example, scientists know that rocks smashed together in a stream can acquire sharp edges.
However, Stony Brook University archeologist Sonia Harmand disagreed.
"This could be, frankly, one of the most important [archeological] sites in the world," Harmand said.
Comments will be moderated. Keep comments relevant to the article. Remarks containing abusive and obscene language, personal attacks of any kind or promotion will be removed and the user banned. Final decision will be at the discretion of the Taipei Times.