Japanese PM visits flood-stricken areas
HEAT THREAT: Temperatures were expected to exceed 33°C yesterday, prompting fears of heatstroke and the potential of thunderstorms triggering new landslides
Japanese Prime Minister Shinzo Abe yesterday visited flood-stricken parts of the country, as the death toll from the worst weather disaster in 36 years reached 176, and health worries increased amid scorching heat and the threat of new floods.
Torrential rain last week unleashed floods and landslides in western Japan, bringing death and destruction in particular to neighborhoods built decades ago near steep slopes.
At least 176 people were killed with dozens missing, the government said.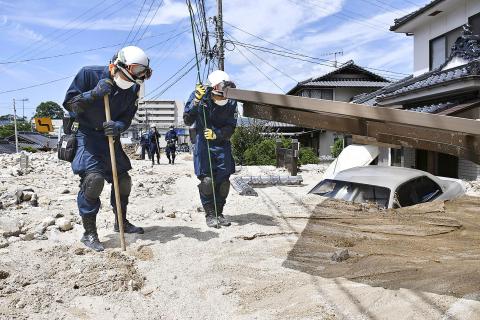 Police search around a house buried in earth and sand by the torrential rain the Tenno District of Kure, Hiroshima Prefecture, Japan, yesterday.
Photo: Reuters / Kyodo
Abe, who canceled an overseas trip to deal with the disaster, was criticized after a photograph posted on Twitter showed Abe and Japanese Minister of Defense Itsunori Onodera at a party with lawmakers just as the rains intensified.
After observing the damage from a helicopter flying over Okayama, one of the hardest-hit areas, Abe visited a crowded evacuation center. He crouched down on the floor to speak with people, many of them elderly, and asked about their health. He clasped one man's hands as they spoke.
Abe's government on Tuesday pledged an initial US$4 billion toward recovery, as well as a later special budget if needed.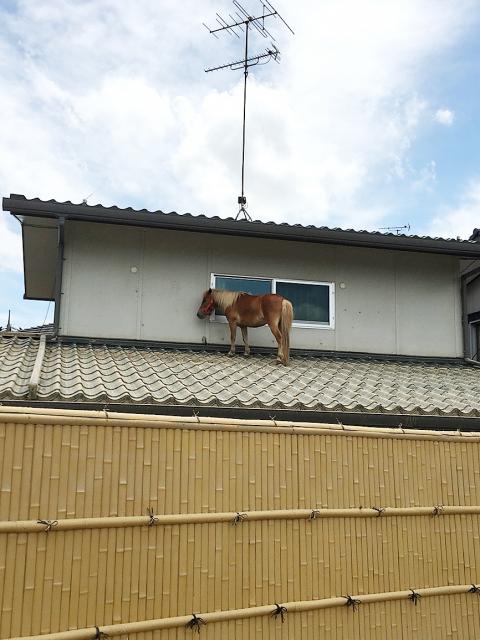 A horse is stranded on a rooftop on Monday in Kurashiki, Okayama Prefecture, Japan. Leaf, a nine-year-old horse who had been a pet at an elderly care home, spent three days stranded on top of a house before she was spotted by aid workers on Monday as floodwaters receded.
Photo: Reuters / Peace Winds Japan
Rescuers faced a scorching sun as they combed through heaps of wood and thickly caked mud in a grim search for bodies, helped by sniffer dogs. In some cases, only the foundation of houses remained as rescuers cut through debris with chain saws.
"My younger brother still hasn't been found. We in the family are coming here to wait in shifts," a woman told Japan Broadcasting Corp as she watched over the ruins left by a landslide.
With temperatures of 33°C or higher predicted for the devastated areas in Okayama and Hiroshima prefectures, attention turned to preventing heatstroke among rescue workers and in evacuation centers where thousands of people sought shelter.
People sat cross-legged on thin mats on a gymnasium floor in one center, plastic bags of belongings piled around them and bedding folded off to the side. Portable fans turned slowly as children cried.
Officials turned to social media to warn of the additional danger of food-borne illnesses, urging people to wash their hands and take other measures against food poisoning.
Evacuation orders were issued for 25 households in the city of Fukuyama after cracks were found in a reservoir.
Water accumulating behind piles of debris blocking rivers also posed a danger after a swollen river rushed into a Fukuyama residential area on Monday, prompting more evacuation orders.
Intensifying heat was expected to trigger more thunderstorms yesterday, with authorities saying that new landslides could be set off on mountainsides saturated with water.
Japanese media yesterday focused on the timing of evacuation orders issued in the hard-hit Mabi District of Kurashiki just minutes before a levee broke and water poured into the residential area.
A number of the dead in Mabi were found in their homes, suggesting that they did not have enough time to flee, media reports said.
With questions mounting about why the rains were so deadly, government spokesman Yoshihide Suga said disaster management policies would be re-examined.
"In recent years we have seen damage from heavy rains that is much worse than in previous years," he said. "We have to review what the government can do to reduce the risks."
Additional reporting by AFP
Comments will be moderated. Keep comments relevant to the article. Remarks containing abusive and obscene language, personal attacks of any kind or promotion will be removed and the user banned. Final decision will be at the discretion of the Taipei Times.