Winner gobbles 50 peppers in 68 seconds in Hunan
An annual chili pepper festival started on Sunday in central China's spice-loving Hunan Province with a chili-eating contest in which the winner set a blistering pace by downing a gut-busting 50 peppers in just more than a minute.
Local boy Tang Shuaihui (唐帥輝) took home a 3g 24-karat gold coin for winning the competition, which is put on by a local theme park in the county of Ningxiang and is now in its second year.
With doctors on hand just in case, 10 contestants each held plates heaped with 50 Tabasco chili peppers, racing to be the first to finish off the red-hot fruits.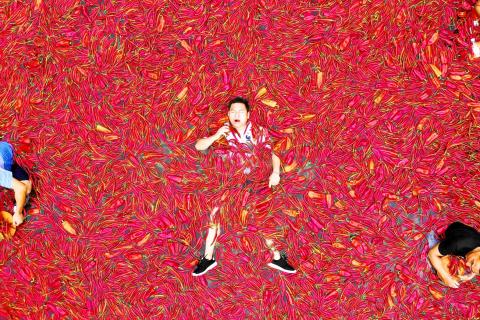 A contestant reacts during a chili-eating contest in a pool of peppers in Ningxiang City in China's Hunan Province on Sunday.
Photo: EPA-EFE
Tang cleared his plate in just 68 seconds in a contest held in nearly sweltering temperatures and as competitors sat in a shallow pool filled with water and 3 tonnes of floating chilis.
"He finished them at an amazing speed, barely after the emcee had finished speaking," said Sun Min-ying, an employee at the theme park, called the Tanhe Ancient City.
The Tabasco pepper has a rank of 30,000 to 50,000 on the Scoville Heat Scale that measures the piquancy of chilis, which puts it somewhere between a jalapeno and a habanero.
However, the peppers bobbing in the pool were of a far weaker variety, partly to avoid irritating the contestants' skin.
Hunan cuisine is marked by its fiery peppers and richly colored dishes, and is considered among China's eight great food traditions, along with Sichuan and Cantonese.
The festival lasts until the end of next month, with a fresh chili-eating contest held daily.
Comments will be moderated. Keep comments relevant to the article. Remarks containing abusive and obscene language, personal attacks of any kind or promotion will be removed and the user banned. Final decision will be at the discretion of the Taipei Times.