Protests in Haiti continue despite U-turn on fuel hike
Haitian leaders on Saturday pleaded for calm as violent protests over fuel price hikes entered a second day and airlines canceled flights to the Caribbean nation.
Haitian Prime Minister Jack Guy Lafontant announced the temporary suspension of double-digit government increases to prices for gasoline, diesel and kerosene on Saturday afternoon — just a day after the fuel price hike was announced.
Haitian President Jovenel Moise called on protesters late on Saturday to "go home."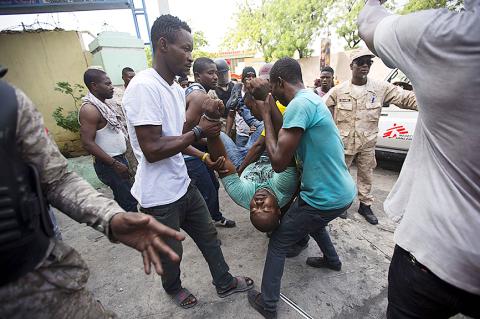 Protesters help an injured man as they clash with a police officer during protests over fuel price increases in Port-au-Prince, Haiti, on Saturday.
Photo: AP
In an address broadcast on state television, Moise said he had "corrected what had to be corrected" following the about-face on the price increases.
"As soon as you speak, I listen. Because you started sending me this message last night, I received it and corrected what had to be corrected," Moise said.
"To those watching me tonight, I ask you all: Go home," he said, adding authorities had been directed to clean the streets.
However, as local television footage showed, the government's decision to back down did not keep angry residents from taking to the streets, with some erecting flaming roadblocks, and attacking hotels and businesses.
US carriers American Airlines and JetBlue announced flight cancelations to Port-au-Prince, citing civil unrest, while the US embassy advised personnel and Americans in the country to shelter in place.
On Friday, the Haitian Commerce and Economic ministries announced that fuel price increases, including a 38 percent jump for gasoline and 47 percent for diesel, would take effect at midnight.
The now-suspended decision by the government was part of an agreement in February with the IMF, which requires Haiti to enact a range of austerity measures.
Just before the suspension was announced, the leader of Haiti's lower house of parliament had threatened a government takeover if the fuel price increases were not reversed.
"If there is no response within two hours, the government will be considered as having resigned" and the legislature will take charge, Haitian Chamber of Deputies President Gary Bodeau said.
Additional reporting by AFP
Comments will be moderated. Keep comments relevant to the article. Remarks containing abusive and obscene language, personal attacks of any kind or promotion will be removed and the user banned. Final decision will be at the discretion of the Taipei Times.