Maduro calls Pence 'viper' as US leader visits region
Venezuelan President Nicolas Maduro on Wednesday called US Vice President Mike Pence a "viper" and vowed to defeat what he called Washington's attempts to force him from power.
Pence, who arrived in Ecuador on Wednesday as part of a tour of South America, is seeking to boost regional pressure on Venezuela following Maduro's reelection last month in a vote that the US said was fraudulent.
"Every time the poisonous viper Mike Pence opens his mouth, I feel stronger," the socialist leader said in a televised speech. "We have defeated you and we are going to defeat [you] wherever you are."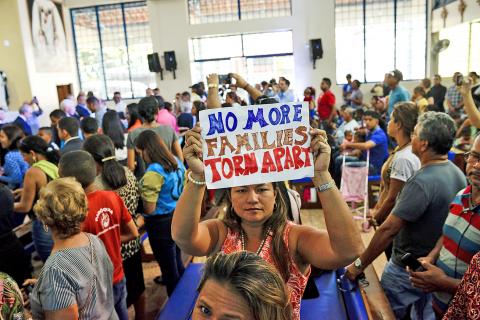 A Venezuelan holds a sign during US Vice President Mike Pence's visit to the Santa Catarina Home on Wednesday in Manaus, Brazil.
Photo: EPA
Maduro says that the US is seeking to overthrow his government to seize the OPEC nation's oil and mineral wealth, and accuses Washington of leading an "economic war" against the nation.
US President Donald Trump has imposed economic sanctions on Maduro and members of his Cabinet on accusations that they are undermining democracy and violating human rights.
Meanwhile, Pence and his wife offered toys and US support to Venezuelan migrants who described the turmoil in their homeland that prompted them to flee.
Venezuelans at a shelter in the city of Manaus in the Brazilian Amazon spoke of the dire conditions back home, the difficulty of fleeing their country and the envy that friends and families left behind feel for those who got out.
"For me, it's really weird staying in another country and staying here, but I have friends there who say: 'I want to be you. I want to stay there,'" Nicoll Rengel, a 22-year-old from Monagas, Venezuela, told the Pences in English. "We need help right now. Our country needs help."
Pence promised her that the US would "keep helping until democracy is restored in Venezuela."
The shelter behind the Santa Catarina church houses about 120 people and opened a month ago to help cope with the flood of Venezuelans into Brazil.
Venezuela's economy is in a deep depression and shortages of food and medicine have sent people fleeing by the tens of thousands into neighboring countries.
On Tuesday, after meeting with Brazilian President Michel Temer, Pence announced that the US would give nearly US$10 million more to support Venezuelan migrants, US$1.2 million of whom would go to Brazil.
"[The] American people stand with the people of Venezuela who are struggling under dictatorship, and we are grateful for the hospitality of Brazil and this church," Pence told the migrants. "We will continue to stand with you until your homeland is restored."
Comments will be moderated. Keep comments relevant to the article. Remarks containing abusive and obscene language, personal attacks of any kind or promotion will be removed and the user banned. Final decision will be at the discretion of the Taipei Times.