Navalny freed after anti-Putin protests
'NOT OUR TSAR': OVD-Info said 1,599 protesters were arrested across the country, from Yakutsk to Moscow and St Petersburg during rallies against Putin's fourth six-year term
Russian opposition leader Alexei Navalny, who was detained on Saturday during a protest ahead of Russian President Vladimir Putin's inauguration for a fourth term, has been released and faces a court hearing next week, his lawyer said yesterday.
The charismatic 41-year-old politician, who was barred from challenging Putin in March's presidential election, had called on Russians to stage rallies across the country on Saturday under the slogan "Not our Tsar."
OVD-Info, an independent organization that monitors political repression and tracks arrests, said 1,599 protesters were detained in 27 cities across Russia, from Yakutsk in the far northeast to St Petersburg and Kaliningrad.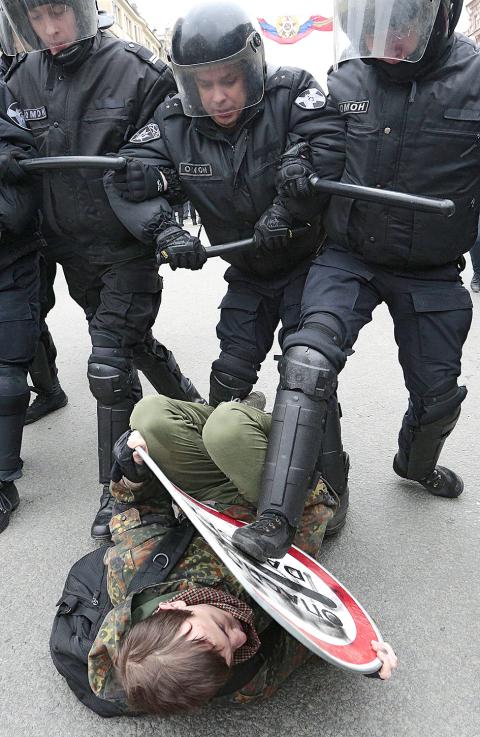 A Russian riot policeman stomps on a protester lying on the ground during an opposition rally in St Petersburg on Saturday.
Photo: EPA-EFE
Navalny, who was grabbed by police and carried away by his arms and legs shortly after he appeared in Moscow's packed Pushkin Square, was released shortly after midnight, he said.
"It appears they received an order 'do not put him behind bars before the inauguration,'" Navalny said on Twitter, referring to the Moscow authorities.
He added that he was accused of organizing an unsanctioned rally and resisting police.
Navalny's lawyer, Veronika Polyakova, yesterday told reporters that a Moscow court would convene on Friday to hear his case.
In January, Navalny was also detained over an unauthorized rally and was formally charged then released. He had faced up to 30 days in jail and said at the time that the authorities wanted to keep him in jail on election day to prevent him from holding rallies — but the planned court hearing was abruptly canceled.
The anti-corruption blogger has faced a string of administrative and criminal charges that he and his supporters see as politically motivated since he became the leading opposition figure campaigning against Putin's rule at mass demonstrations in 2011 and 2012.
The protests on Saturday demonstrated that Navalny's opposition, although considered beleaguered by Russian officials and largely ignored by state-controlled television, has sizeable support in much of the country.
"I think that Putin isn't worthy of leading this country. He has been doing it for 18 years and has done nothing good for it," Moscow demonstrator Dmitry Nikitenko said. "He should leave for good."
OVD-Info said 702 protesters were arrested in Moscow alone and 232 in St Petersburg.
Moscow police said about 300 people were detained in the capital, state news agencies said, and there was no official nationwide tally.
"Let my son go!" Iraida Nikolaeva screamed, running after police in Moscow when they detained her son. "He did not do anything! Are you a human or not? Do you live in Russia or not?"
Putin is to be inaugurated for a new six-year term today.
Additional reporting by AP
Comments will be moderated. Keep comments relevant to the article. Remarks containing abusive and obscene language, personal attacks of any kind or promotion will be removed and the user banned. Final decision will be at the discretion of the Taipei Times.