Worry as London murder rate soars
Another deadly night in London is putting pressure on political leaders, as a surge in violence on the streets of the British capital pushes its murder rate higher than that of New York City.
Two teenagers on Monday were fatally shot and another was stabbed in the northeast of the city.
Some are blaming budget cuts for the spate of attacks.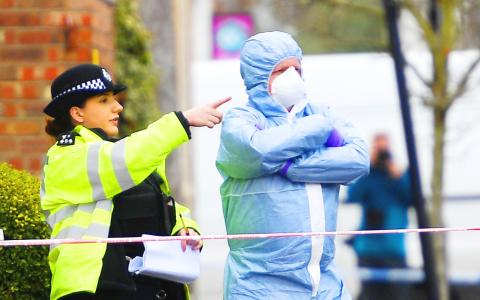 Police and forensic officers work at the scene of a shooting in Tottenham, north London, on Tuesday.
Photo: EPA
Larry Logan, a former police superintendent in east London, said the city is facing "a perfect storm" of reduced police numbers and "decimated" social services due to funding cuts.
He said "overworked" detectives are retiring or quitting as they struggle with their caseloads.
Citing a recent conversation with a homicide detective, he said: "In his 35 years, he's never known it so overwhelming... they're just leaving in their droves."
David Lammy, the local lawmaker in Tottenham where one of the teenagers was killed, said he had requested an urgent meeting with British Home Secretary Amber Rudd.
Lammy said the violence was bring driven by drug turf wars and criticized the government's funding cuts for police.
"We need to bring down the gangsters," he said.
London's Metropolitan Police launched 46 murder inquiries in the first three months of this year — including 15 in February and 22 last month.
That is roughly double the number seen in the first quarter of last year and, in the latter two months, more than in New York, a city of comparable size.
It is the first time in modern history that London's homicide rate, which has grown nearly 40 percent in three years, has been higher than New York's.
In the latest violence on Monday, a 17-year-old girl was shot dead in Tottenham, north London, in what witnesses described as a drive-by attack.
A 16-year-old boy on Tuesday died in hospital a day after he was shot in the face in northeast London, police said.
A 15-year-old boy who was stabbed in the same incident has been discharged from hospital.
"I fully appreciate the alarm, shock and revulsion caused by this murder and other fatal shootings we have seen across London over the last few months," Glenn Butler of the Metropolitan Police said.
Writing on Facebook, the area's lawmaker Stella Creasy appealed for witnesses over the "horrific and distressing incident."
She said an order allowing police to search members of the public without suspicion amid the risk of violence had been put in place in the area.
There has been a sharp drop in such stop-and-search activity, with use of the controversial powers at the lowest level since records started 17 years ago.
It attracted sustained criticism for targeting ethnic minorities, leading then-British home secretary Theresa May, now prime minister, to introduce reforms in 2014.
London Mayor Sadiq Khan, who has devolved powers over policing, has also blamed May's government for underfunding the police.
He says the force has faced more than £600 million (US$845 million) in central government grant cuts since 2011, leading to the large-scale loss of police officers and facilities.
"Government cuts have decimated services for young Londoners across our city," he wrote on Twitter on Tuesday, reacting to a post from Labour lawmaker Dawn Butler criticizing Downing Street.
"You can't protect people on the cheap," she had said.
A spokesman for the British Home Office said the government is taking action "to restrict access to offensive weapons" and "break the deadly cycle of violence."
"The UK has some of the toughest gun laws in the world and we are determined to keep it that way," he said.
Sarah Castro, of Safer London, a charity working to prevent gang violence, said her staff were "shell-shocked" by this week's violence.
She warned against trying to identify one single cause for the spike.
"If we knew, we'd be stopping it," Castro said. "It's a whole range of different things."
Castro said the biggest challenge youth workers face on London's streets is trying to change young men's mindsets.
"They think being a man is being hyper-masculine," she added.
Logan, who now runs a crime reduction initiative, agreed.
"It's either fight or flight — and invariably it's fight and they will strike first, whether it's to stab someone or shoot someone," he said. "That's what we're seeing more and more of."
Comments will be moderated. Keep comments relevant to the article. Remarks containing abusive and obscene language, personal attacks of any kind or promotion will be removed and the user banned. Final decision will be at the discretion of the Taipei Times.