Malaysia proposes 10 years in jail for fake news culprits
The Malaysian government yesterday proposed new legislation to outlaw fake news with a 10-year jail term for offenders, a move slammed by critics as a draconian bid to crack down on dissent ahead of a general election.
Malaysian Prime Minister Najib Razak has been dogged by a multibillion-dollar corruption scandal involving an indebted state fund, and rights activists fear that the new law could be used to criminalize news reports and critical opinions on government misconduct. A general election must be held by August, but is widely expected in the next few weeks.
The anti-fake news bill, which must be approved by the Malaysian parliament, calls for penalizing those who create, offer, circulate, print or publish fake news or publications containing fake news with a 10-year jail term, a fine of up to 500,000 ringgit (US$128,240) or both.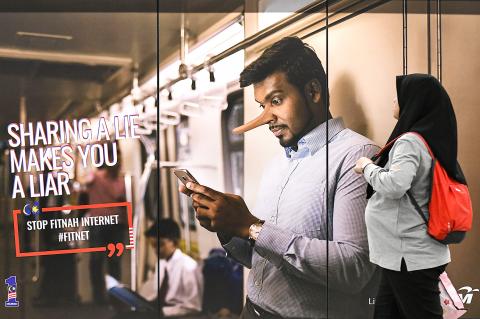 A commuter, right, walks past an advertisement yesterday that reads, "Sharing a lie makes you a liar" at a train station in downtown Kuala Lumpur, Malaysia.
Photo: AFP
The bill defines fake news as "any news, information, data and reports which is, or are, wholly or partly false whether in the form of features, visuals or audio recordings or in any other form capable of suggesting words or ideas."
It covers all mediums and extends even to foreigners outside the country if Malaysia is affected.
"This is an attack on the press and an attempt to instill fear among the [people]" before the general election, opposition lawmaker Ong Kian Ming tweeted.
Government officials say the law is needed to protect public harmony and national security.
Officials have accused the opposition coalition of using fake news as a key weapon to win votes and warned that any news on Malaysia's indebted state investment fund 1Malaysia Development Bhd (1MDB) that had not been verified by the government is fake.
The US and several other countries are investigating allegations of cross-border embezzlement and money laundering at 1MDB, which was set up and previously led by Najib to promote economic development, but which accumulated billions in debt.
The US Department of Justice says at least US$4.5 billion was stolen from 1MDB by associates of Najib, and it is working to seize US$1.7 billion taken from the fund to buy assets in the US.
Najib, who denies any wrongdoing, has fired critics in his government and muzzled the media since the corruption scandal erupted three years ago.
Support for Najib's ruling coalition has dwindled in the last two elections, but analysts say Najib is expected to win a third term.
Critics say the anti-fake news bill would add to a range of repressive laws — including a sedition law, a press and publications act, an official secrets act and a security act — that have been used against critics, violated freedom of expression and undermined media freedom.
A coalition of human rights and civic groups has also expressed concern that the government is rushing through the legislation, without consulting key stakeholders and releasing details in advance for public scrutiny.
Comments will be moderated. Keep comments relevant to the article. Remarks containing abusive and obscene language, personal attacks of any kind or promotion will be removed and the user banned. Final decision will be at the discretion of the Taipei Times.