Hope Hicks leaving White House post
'WHITE LIES': US President Donald Trump said he 'would miss having her by my side,' the day after the communications director told a House panel she had lied for him
White House communications director Hope Hicks, one of US President Donald Trump's most trusted and longest-serving aides, abruptly announced her resignation, leaving a void around a president who values loyalty and affirmation.
The departure of Hicks, who worked as a one-woman communications shop during his campaign, came as a surprise on Wednesday to most in the White House — and cast a pall over the West Wing at a trying time for the president.
It leaves Trump increasingly without support of the familiar aides who surrounded him during his campaign, and marks the latest in a string of high-level departures in the administration's second year.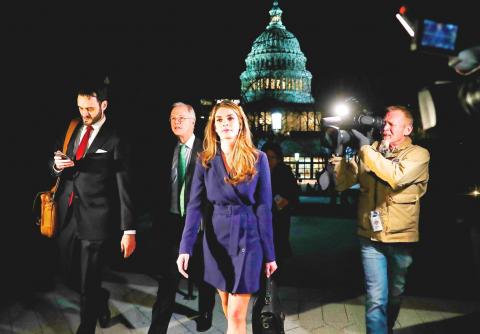 White House communications director Hope Hicks leaves the US Capitol after attending the House of Representatives Permanent Select Committee on Intelligence closed door meeting in Washington on Tuesday.
Photo: Reuters
Hicks, 29, had a seemingly untouchable role in the West Wing, often viewed more as a surrogate daughter than a staffer.
Perhaps most importantly, she served as Trump's glamorous shield and validator, always ready to provide "Mr. Trump" with a smiling dose of positive reinforcement, and controlling reporters' access.
She was the fourth person to occupy the position since the president was sworn in, as the Trump White House has set modern records for staff turnover.
In a statement, Trump praised Hicks for her work over the last three years, saying that he "will miss having her by my side."
Hicks on Wednesday informed Trump of her decision, a White House official said.
Hicks, who occupied the desk closest to the Oval Office in the West Wing, has been a central participant in or witness to nearly every milestone and controversy of the Trump campaign and White House.
She began her White House tenure as director of strategic communications — a title that only partly captured her more expansive role as the president's gatekeeper to the press.
The news comes a day after Hicks was interviewed for nine hours by the House of Representatives panel investigating Russia interference in the 2016 election and contact between Trump's campaign and Russia.
Hicks on Tuesday acknowledged to the House panel that she has occasionally told "white lies" for Trump, but added that she had not lied about anything relevant to the Russia investigation.
She has also been interviewed by special counsel Robert Mueller's team about her role in crafting a statement about Donald Trump Jr's 2016 meeting with Russians, as Mueller's expansive probe of Russian interference in the 2016 election and potential misdeeds committed by those in the president's orbit moves ever closer to the Oval Office.
Hicks' departure leaves a vacuum in the White House communications team, and in the president's collection of trusted aides.
The announcement came a day after news broke of the impending departure of deputy communications director Josh Raffel, and just a few days after senior adviser Jared Kushner saw his security clearance downgraded — limiting his access to classified information.
"I can't imagine anyone here leaving a bigger hole in the White House than Hope on her departure," White House lawyer Ty Cobb said.
White House officials and outside advisers suggested that Hicks' departure would strengthen chief of staff John Kelly's control over what has been an oftentimes chaotic West Wing.
In a statement, Kelly said Hicks had become "a trusted adviser and counselor," but behind the scenes, the pair had occasionally clashed over her more informal role.
Kelly had begrudgingly supported making Hicks communications director after the short-lived tenure of Anthony Scaramucci, in an effort to integrate her role into the rest of the White House's communications strategy.
"There are no words to adequately express my gratitude to President Trump," Hicks said in a statement, adding that she wished Trump and his administration the "very best."
Comments will be moderated. Keep comments relevant to the article. Remarks containing abusive and obscene language, personal attacks of any kind or promotion will be removed and the user banned. Final decision will be at the discretion of the Taipei Times.