Brazil's president puts army in charge of Rio de Janeiro
Brazilian President Michel Temer on Friday handed the military full control of security in Rio de Janeiro in an increasingly desperate fight to tame runaway gang violence.
Army patrols are already used in Rio's gang-ruled favelas, but a decree signed by Temer gives the military full control of security operations in Rio state, which the president said had virtually been seized by organized crime gangs.
The army will now have primacy over the state police, a situation unheard of since the country's return to democracy in 1985 after two decades of military rule.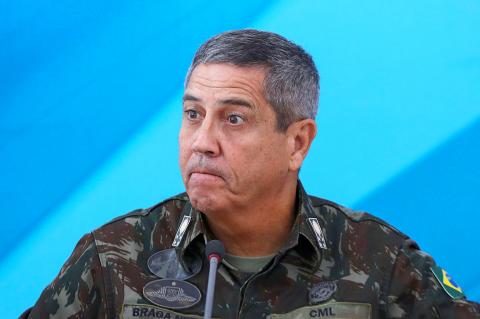 Brazilian General Walter Souza Braga Netto, who has been put in charge of public safety in Rio de Janeiro, speaks during a news conference at the Planalto Palace in Brasilia on Friday.
Photo: AFP
"I am taking these extreme measures because circumstances demand it," he said after signing the decree to combat seemingly endless waves of gang-driven violence. "The government will give tough and firm answers, taking all necessary measures to eradicate organized crime."
He described organized crime as "a metastasis that spreads through the country and threatens the tranquility of our people."
"We cannot passively accept the death of innocents," Temer said in a speech at his Planalto palace in Brasilia in which he outlined the human cost of the violence. "It is intolerable to be burying fathers and mothers, workers, policemen, young people and children and seeing whole neighborhoods besieged, schools in the crosshairs of rifles and avenues transformed into trenches."
Chamber of Deputies President Rodrigo Maia — who took part in a preparatory meeting with Temer on Thursday — described the move to reporters on Friday as "hard and extreme."
Congress is expected to ratify the decree within 10 days.
The country has seen a wave of violence that prompted Brazilian Minister of Defense Raul Jungmann to declare last month that "the security system is broken."
Rio State Governor Luiz Fernando Pezao on Wednesday issued an apology after the carnival in Rio de Janeiro was marred by violence and muggings.
Jungmann had predicted a sharp response after meeting Temer on late Wednesday.
"It is clear to us that the situation in Rio during the carnival was unfortunate," he said. "New measures will be announced."
Responsibility for security in Rio will now fall to General Walter Souza Braga Neto, who was the man in charge of coordinating security when the city hosted the 2016 Olympic Games.
Comments will be moderated. Keep comments relevant to the article. Remarks containing abusive and obscene language, personal attacks of any kind or promotion will be removed and the user banned. Final decision will be at the discretion of the Taipei Times.