Pyongyang cancels joint cultural event
CRITICISM: North Korea cited reports in South Korean media, which it said defamed its 'sincere' measures for the Olympics, in calling off the Mount Kumgang event
North Korea has canceled one of the key joint cooperation projects with South Korea planned for next month's Winter Olympics, officials said, further demonstrating the delicate nature of ties between the rivals split for seven decades.
North Korea on Monday night sent a message saying that it would not hold a joint cultural event at the North's Mount Kumgang on Sunday to mark the Winter Olympics in Pyeongchang, South Korea, the South Korean Ministry of Unification said.
The ministry cited North Korea as saying that it has no option but to cancel the project because of South Korean media reports that it says defamed its "sincere" measures for the Olympics.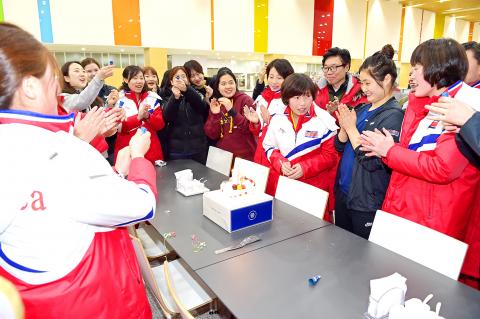 North Korean, in red, and South Korean ice hockey players celebrate the birthday of a member of the North's delegation during a training session at Jincheon National Training Center in South Korea yesterday.
Photo: EPA-EFE / Korean Sport and Olympic Committee handout
The North also accused South Korean media of picking a fight over an unspecified domestic festival in North Korea, the ministry said.
South Korea considers the North's decision "very regrettable," it added.
The North did not say which media reports were at issue, but some reports had criticized the North's plan to stage a major event to mark the 70th anniversary of the founding of its military on Feb. 8, just one day before the Olympics' opening ceremony.
South Korean officials have said the North plans a massive military parade on the anniversary.
It was not clear how the latest development would affect other planned Olympics-related cooperation projects between the Koreas. They have agreed to field a joint women's ice hockey team and have their athletes parade together under a single flag during the opening ceremony on Friday next week.
A dozen North Korean hockey players last week arrived in South Korea to practice with their South Korean teammates.
North Korea has a history of last-minute cancelations and unexplained reversals, and some experts have said it might have sought to gain concessions from the South.
The visit earlier this month of a prominent band leader to inspect artistic venues in the South was delayed by North Korea, but eventually took place.
The two nations' reconciliatory mood followed a year of heightened animosities over North Korea's nuclear program.
Many analysts have said the North might want to use improved ties with South Korea to weaken US-led international pressure and sanctions on the country.
Comments will be moderated. Keep comments relevant to the article. Remarks containing abusive and obscene language, personal attacks of any kind or promotion will be removed and the user banned. Final decision will be at the discretion of the Taipei Times.