Trump rings in 'fantastic' new year in Palm Beach
US President Donald Trump on Sunday night predicted a "fantastic 2018" as he strolled down a red carpet to bid farewell to last year with an exclusive bash at his private club.
Accompanied by first lady Melania and son Barron, a tuxedoed Trump spoke to reporters as he entered the gilded ballroom at Mar-a-Lago in Florida's Palm Beach.
The US stock market will continue to rise and that companies are going to continue to come into the US, he said.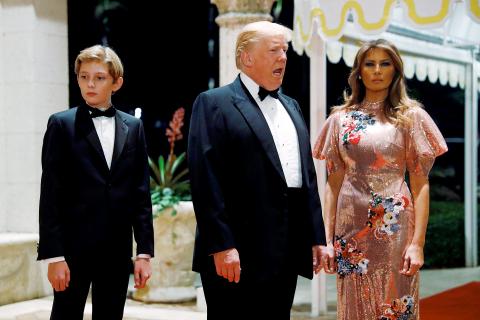 US President Donald Trump, center, first lady Melania and their son Barron arrive for a New Year's Eve party at Trump's Mar-a-Lago club in Palm Beach, Florida, on Sunday.
Photo: Reuters
Asked about North Korean leader Kim Jon-un's remarks about having a nuclear button on his desk, Trump said: "We'll see."
Guests gathered in the ballroom included senior White House advisers Ivanka Trump and Jared Kushner, Trump's sons Eric Trump and Donald Trump Jr and US Secretary of the Treasury Steven Mnuchin.
Earlier in the day, the US president capped last year with a self-tribute video touching on what he sees as the high points of his achievements and rhetoric from his first year in office.
He gave a plug to US exceptionalism, too.
In the video running three minutes, scenes of Trump with US military personnel, US Border Patrol agents and other world leaders are set to a stirring soundtrack as he declares of his country: "We gave birth to the modern world and we will shape tomorrow's world with the strength and skill of American hands."
Trump cited his success in placing a justice on the US Supreme Court, his efforts to cut regulations and his big win on overhauling taxes, which he falsely described as the "largest tax cut in the history of our country."
Trump posted the video with a New Year's Eve message: "What a year it's been, and we're just getting started. Together, we are MAKING AMERICA GREAT AGAIN! Happy New Year!!"
He later posted another Twitter message, loaded with his signature bombast: "As our Country rapidly grows stronger and smarter, I want to wish all of my friends, supporters, enemies, haters, and even the very dishonest Fake News Media, a Happy and Healthy New Year. 2018 will be a great year for America!"
The White House said Trump has been briefed on New Year's Eve security precautions around the US and would continue to monitor those efforts.
Trump had lunch with Florida Governor Rick Scott on Sunday.
They discussed hurricane recovery efforts, the need to improve infrastructure "and many other matters important to the people of Florida," the White House said
The governor came with some specific concerns: the need for repairs to the federally operated Herbert Hoover Dike surrounding Lake Okeechobee and the recovery of Florida's citrus industry from Hurricane Irma, his spokesman John Tupps said.
Trump has encouraged Scott to challenge US Senator Bill Nelson, a Democrat, this year.
Scott last month said that he had not made up his mind, though there have been multiple signs he is considering a run.
Comments will be moderated. Keep comments relevant to the article. Remarks containing abusive and obscene language, personal attacks of any kind or promotion will be removed and the user banned. Final decision will be at the discretion of the Taipei Times.