Small protests greet induction of Austrian nationalists
With a heavy police presence keeping protesters at bay, Austria's far-right was sworn in on Monday as part of the new government, rounding off a triumphant year for Europe's nationalists.
However, unlike in 2000 — the last time the Freedom Party of Austria (FPO) entered government — there was next to no alarm abroad and the demonstrations in Vienna were tiny in comparison.
The coalition between the conservative Austrian People's Party (OVP) and the FPO has pledged to stop illegal immigration, cut taxes and resist EU centralization, and will be led by Austrian Chancellor Sebastian Kurz of the OVP, at 31 the world's youngest leader.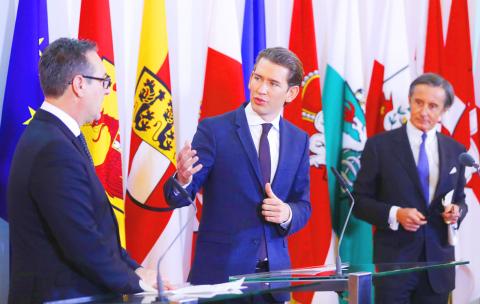 Austrian Vice Chancellor Heinz-Christian Strache, left, Chancellor Sebastian Kurz, center, and spokesman Peter Launsky-Tieffenthal attend a news conference after a Cabinet meeting in Vienna yesterday.
Photo: Reuters
His deputy is FPO leader Heinz-Christian Strache, 48, who last year called German Chancellor Angela Merkel "the most dangerous woman in Europe" for her open-door refugee policy and has warned about the "Islamization" of Europe.
Minister of the Interior is Herbert Kickl of the FPO, former speechwriter for Strache's charismatic, but highly controversial predecessor, Joerg Haider, who was in charge of the FPO in 2000.
The party also secured the defense and foreign ministries.
In an interview with public broadcaster ORF on Monday evening, Kurz said his government should be "judged on its work" and not the reputation of his coalition partners.
Police said that about 5,500 people took part in the largely peaceful demonstrations on Monday, where protesters brandished placards such as "refugees welcome" and "Nazis out."
A heavy police presence of about 1,500 officers, with helicopters overhead and water-cannon trucks at the ready, blocked off the area around the Hofburg palace.
"I am very worried," 26-year-old protester Stefanie said. "We saw what happened 15 years ago. The rich are favored at the expense of the weak, the poor, refugees."
Austrian President Alexander Van der Bellen urged the new government to show "respect for people who think differently, respect for the rights of minorities and support for the weakest in our society."
Mirroring elections elsewhere in Europe this year, Kurz and Strache won over voters two months ago by stoking concerns about immigration after the record influx in 2015.
Geert Wilders' Freedom Party became the second-largest in the Netherlands, Marine Le Pen of France's National Front was in a runoff for the presidency and Alternative for Germany entered the Bundestag.
"Every election demonstrates a form of rejection of the European Union," Le Pen said in Prague on Saturday, echoing the euroskepticism shown by the FPO in the past.
Strache has called Brussels a "bureaucratic monster" and has said that Britain will "probably be better off" after it leaves the EU.
However, both he and Kurz on Saturday said that Vienna would stay staunchly pro-EU, ruling out a British-style referendum on EU membership.
But Kurz said that during Austria's EU presidency — in the second half of next year — Vienna would press for Brussels to be "stronger in big questions ... [and to] step back on smaller issues."
Austria will also "actively work" toward easing EU sanctions on Russia — a demand of the FPO — and wants an end to Turkey's talks to join the bloc, sparking anger from Ankara.
EU President Donald Tusk, who was due to meet Kurz in Brussels yesterday, said he expected Vienna to "continue to play a constructive and pro-European role."
Congratulations to Kurz flooded in from abroad, but unlike 17 years earlier with Haider — when several hundred thousand people protested in Vienna — unease was thin in the ground.
One exception was UN High Commissioner for Human Rights Zeid Ra'ad al-Hussein, who said that Kurz's rightwards tilt marked a "dangerous development ... in the political life of Europe."
He warned of the rise of a "sort of ethno-nationalism, chauvinistic nationalism" across Europe.
European Commissioner Pierre Moscovici, a French left-winger, also tweeted on Sunday that the new Austrian government "requires the vigilance of democrats attached to European values."
Comments will be moderated. Keep comments relevant to the article. Remarks containing abusive and obscene language, personal attacks of any kind or promotion will be removed and the user banned. Final decision will be at the discretion of the Taipei Times.