Indonesia annuls 2013 religion law
Indonesia's top court has overturned a law that denied recognition and legal rights to followers of indigenous faiths in a surprise advance for religious freedom in the world's most populous Muslim nation.
The Constitutional Court, in a unanimous ruling on Tuesday from its nine-judge panel, said that articles in the 2013 Civil Administration Law were discriminatory and violated the principle of equality before the law.
"These articles are not legally binding as they contradict the 1945 constitution," presiding Judge Arief Hidayat told the court.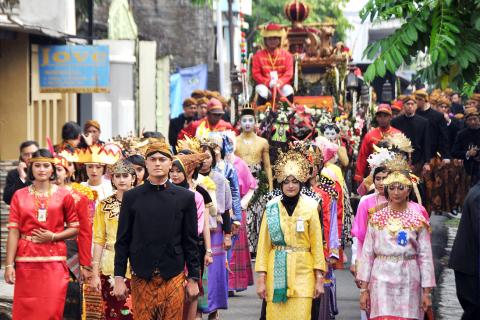 Police and soldiers wearing traditional outfits participate in a wedding procession yesterday for Indonesian President Joko Widodo and first lady Iriana Widodo's daughter Kahiyang Ayu in Solo, Central Java. The groom and bride's families used horse-drawn carriages and gold-decorated chariots to travel to the wedding venue.
Photo: AFP
The 2013 law effectively required followers of faiths not among the six recognized by the government to list one of the official religions on their national identity card or be denied basic rights such as marriage registration and land titles.
They also had the option of leaving the religion category blank, but that would risk being accused of being an atheist, an offense under Indonesia's blasphemy law, Human Rights Watch Indonesia researcher Andreas Harsono said.
The ruling said the law caused injustice to followers of native faiths. Difficulties in obtaining national identity cards meant some were deprived of education, access to the justice system and other rights, it said.
Indonesia has for decades recognized only Islam, Protestantism, Catholicism, Buddhism, Hinduism and Confucianism as religions, but millions practice animism and other local faiths.
Harsono said the ruling would protect adherents of indigenous religions from prosecution under Indonesia's blasphemy law, but it would not help Shiite and Ahmadiyah Muslims who face difficulties in getting national ID cards.
Comments will be moderated. Keep comments relevant to the article. Remarks containing abusive and obscene language, personal attacks of any kind or promotion will be removed and the user banned. Final decision will be at the discretion of the Taipei Times.