Australian drug mule sentenced in Bogota
'COCAINE CASSIE': Colombians who followed the drug trafficking case were offended by the family's statement that she could not receive a fair trial in such a 'corrupt country'
A judge in Colombia has sentenced an Australian woman to six years in jail after she pleaded guilty to drug trafficking in a high-profile case that has shed light on the plight of foreign drug mules.
Cassandra Sainsbury was on Wednesday accompanied by her family as the judge accepted the plea deal — a huge reduction from the 30 years in jail she faced had the case gone to trial.
Her lawyer Orlando Herran said that with good conduct, his client could be released from prison in as little as two years and placed under house arrest even before then.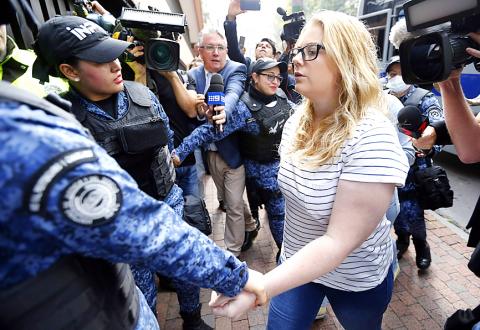 Cassandra Sainsbury is escorted by police to a court hearing in Bogota, Colombia, on Wednesday.
Photo: AP
She must also pay a fine of nearly US$100,000.
Sainsbury was arrested in April at Bogota's El Dorado International Airport boarding a flight to London after an X-ray machine detected in her luggage about 6kg of cocaine stashed in packages of headphones that she told police she had purchased to bring back to Australia for her wedding.
However, she changed her story several times, later claiming she had been set up and threatened by people in Sydney, where she said she worked as a receptionist at a brothel.
Prosecutors, in seeking leniency, were persuaded that her crimes were not so black and white, Herran said.
"She's lucky because the amount of the drugs was very big," he told a bevy of Australian journalists who traveled to Colombia after the closed-door hearing.
Sainsbury's arrest garnered top attention in Australia, where tabloids alternated between mocking the Adelaide native as "Cocaine Cassie" and expressing sympathy with the plight of Australia's highest-profile foreign prisoner.
However, the few Colombians who followed the case at all tended to be deeply offended by her family's early statement that she could not receive a fair trial in such a "corrupt country."
Colombia is the world's largest producer of cocaine and its police among the best-trained to detect and stop drug smuggling thanks in part to billions of dollars in US anti-narcotics aid that has strengthened law enforcement.
Many families have sad tales of loved ones who have spent years behind bars in the US and elsewhere after being drawn by economic hardship into the lower rungs of the drug trade.
As tourism to Colombia has boomed over the past decade, the country's drug cartels are increasingly recruiting foreigners to smuggle cocaine out of the country. So far this year, Colombian police have arrested 67 foreign drug mules.
Comments will be moderated. Keep comments relevant to the article. Remarks containing abusive and obscene language, personal attacks of any kind or promotion will be removed and the user banned. Final decision will be at the discretion of the Taipei Times.