Protest against Rohingya repatriation
LAND GRAB: Draft plans shows Rohingya returnees would be unlikely to be able to reclaim their land and could find the government has harvested and sold their crops
Hundreds of hardline Buddhists yesterday protested to urge Myanmar's government not to repatriate the nearly 600,000 minority Rohingya Muslims who have fled to Bangladesh since late August to escape violence in Rakhine state.
The protest took place in Sittwe, the state capital, where many Rohingya lived before an outbreak of inter-communal violence in 2012 forced them to flee their homes.
Aung Htay, a protest organizer, said any citizens would be welcome in the state.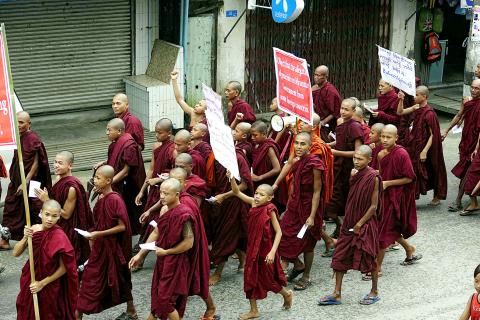 Buddhist monks yesterday hold placards during a protest by hundreds of people in Sittwe, the capital of Myanmar's Rakhine state, against Royingya Muslims.
Photo: EPA-EFE
"But if these people don't have the right to be citizens ... the government's plan for a conflict-free zone will never be implemented," he said.
Myanmar does not recognize Rohingya as an ethnic group, instead insisting they are Bengali migrants from Bangladesh living illegally in the country. Rohingya are excluded from the official 135 ethnic groups in the country and denied citizenship.
More than 580,000 Rohingya from northern Rakhine have fled to Bangladesh since Aug. 25, when security forces began a scorched-earth campaign against Rohingya villages.
Myanmar's government has said it was responding to attacks by Muslim insurgents, but the UN and others have said the response was disproportionate.
Burmese State Counselor Aung San Suu Kyi's government said earlier this month that it was willing to take back Rohingya refugees who fled to southeastern Bangladesh. The government has agreed to form a joint working group to start the repatriation process.
The protesters yesterday, including some Buddhist monks, demanded that the government not take back the refugees.
"The organizers of the protest applied to get permission for a thousand people to participate in the protest, but only a few hundred showed up," local official Soe Tint Swe said.
In other developments, Rohingya who do return are unlikely to be able to reclaim their land, and might find their crops have been harvested and sold by the government, according to officials and plans seen by Reuters.
Reuters interviewed six officials involved with repatriation and resettlement plans. While the plans are not yet finalized, their comments reflect the government's thinking on how Aung San Suu Kyi's repatriation pledge will be implemented.
"It depends on them. There is no land ownership for those who don't have citizenship," Rakhine Minister of Agriculture Kyaw Lwin said when asked in an interview.
Myanmar also intends to settle most refugees who return to Rakhine state in new "model villages," an approach criticized in the past by the UN as effectively creating permanent camps.
Officials have made plans to harvest, and possibly sell, thousands of acres of crops left behind by the fleeing Rohingya, according to state government documents reviewed by Reuters.
The exodus from the conflict zone in northern Rakhine has left about 28,935 hectares of planted rice paddy abandoned and in need of harvesting by January, according to plans drawn up by state officials.
Two dozen combine harvesters operated by officials from the state's Ministry of Agriculture are to begin cutting stalks this month in areas under military control.
The harvested rice will be transported to government stores, where it would either be donated to those displaced by the conflict or sold, Rakhine state secretary Tin Maung Swe said by telephone.
Additional reporting by Reuters
Comments will be moderated. Keep comments relevant to the article. Remarks containing abusive and obscene language, personal attacks of any kind or promotion will be removed and the user banned. Final decision will be at the discretion of the Taipei Times.