Wildfires kill 40 people in Portugal, Spain
At least 36 people have died in fires ravaging forests in northern and central Portugal over the past 24 hours, rescuers said on Monday, after four people were killed in Spain in blazes sparked by arsonists and fanned by Hurricane Ophelia.
The 36 deaths, which were confirmed by the Portuguese National Civil Protection Agency and included a one-month-old baby, come four months after 64 people were killed in the deadliest fire in the nation's history in June.
"There are still places where security services have not yet managed to reach," agency spokeswoman Patricia Gaspar said, adding that the toll remained preliminary for that reason.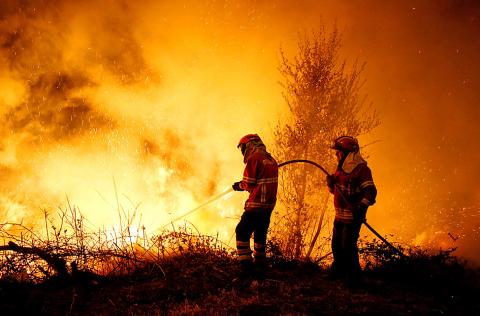 Firefighters work to extinguish flames from a forest fire in Cabanoes near Lousa, Portugal, on Monday.
Photo: Reuters
She said seven people were still missing due to the fires, which have also injured at least 63 people, including 16 critically.
The 524 registered outbreaks of fire in Portugal, by far the most since 2006, were caused by "higher than average temperatures for the season and the cumulative effect of drought," Gaspar said.
Portuguese Prime Minister Antonio Costa reaffirmed his pledges to prevent new tragedies by carrying out "fundamental reforms" in forest management and firefighting.
"After this year, nothing should remain as it was before," he said.
In Portugal, as in the northwestern Spanish region of Galicia, temperatures were cooler on Monday and weather services forecast rain for yesterday, but about 3,600 firefighters were still battling about 30 major fires in Portugal by Monday evening.
In Spain, Galician authorities, who have declared three days of regional mourning, said there were still 15 active fires representing a risk to the population and homes.
One of the worst hit areas in Portugal is near the city of Lousa in the Coimbra region, where 650 firefighters were battling blazes.
"We went through absolute hell, it was horrible. There was fire everywhere," a resident of the town of Penacova, near Lousa, told RTP television.
Two brothers in their 40s who were trying to put out the blaze there were among the fatalities.
In a village in the commune of Vouzela, in the northern district of Viseu, residents used water hoses to try to fight the flames as several homes were consumed.
"Everything happened in 45 minutes, the fire came at the foot of the village and spread at an incredible rate," resident Jose Morais said. "I have never seen anything like that before. It felt like the end of the world. Everyone fled."
Comments will be moderated. Keep comments relevant to the article. Remarks containing abusive and obscene language, personal attacks of any kind or promotion will be removed and the user banned. Final decision will be at the discretion of the Taipei Times.