Nate becomes tropical storm
Tropical Storm Nate was heading inland over the southern US states of Mississippi and Alabama yesterday after the US National Hurricane Center downgraded it from a Category 1 hurricane, the latest in an unusually ferocious storm season that has racked up billions in damage.
With top winds of 110kph, Nate was moving north-northeast, the hurricane center said.
Based on its forecast track, Nate was expected to turn toward the northeast with an increase in speed as it moves across the Deep South, Tennessee Valley, and central Appalachian Mountains through today, the center said in an advisory.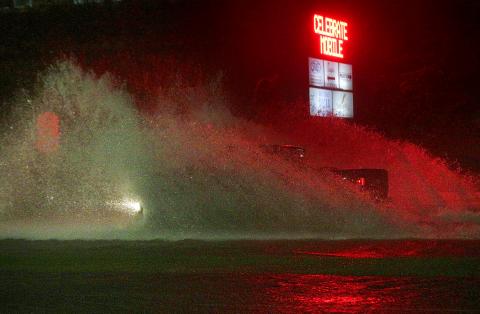 A large truck drives through flooded Water Street in Mobile, Alabama, during a rainstorm brought by Tropical Storm Nate early yesterday.
Photo: AP
Nate was expected to weaken quickly as it moves farther from the sea, before dissipating later today, the center said.
The storm was downgraded following its second landfall yesterday near Biloxi, Mississippi, after it crashed ashore on Louisiana's southeast coast on Saturday night.
"There is going to be flooding and wind damage in New Orleans," said Bob Smerbeck, a meteorologist with AccuWeather in State College, Pennsylvania. "There will be a risk of tornadoes all the way across the Gulf Coast to the Florida Panhandle."
Flooding and landslides caused by Nate have already killed more than 20 people across Central America.
The storm may cause as much as US$4 billion damage and economic losses across an area of the Gulf Coast dotted with casinos and resorts, said Chuck Watson, a damage modeler with Enki Research in Savannah, Georgia.
Twelve casinos stretch along Mississippi's Gulf Coast, according to the Gulf Coast Regional Convention & Visitors Bureau Web site. About 76,000 homes from Louisiana to Florida with an estimated reconstruction cost of US$16 billion could be affected by Nate, according to CoreLogic Inc.
The region's oil and natural gas operators also shuttered production in response to Nate.
About 92 percent of US Gulf oil production and 77 percent of natural gas output have been taken offline, the US Bureau of Safety and Environmental Enforcement said in a notice.
The US Coast Guard on Saturday suspended marine traffic and closed ports, while Magellan Midstream Partners reduced operations at its Marrero, Louisiana, petroleum storage terminal.
All told, 14 storms have formed across the Atlantic this season, killing hundreds in the US, Mexico and the Caribbean and causing an estimated US$300 billion in damage.
Accumulated cyclone energy, a measure of storm power and longevity, set a record in last month.
Including Nate, six storms will have hit the US this year, center spokesman Dennis Feltgen said.
Comments will be moderated. Keep comments relevant to the article. Remarks containing abusive and obscene language, personal attacks of any kind or promotion will be removed and the user banned. Final decision will be at the discretion of the Taipei Times.