Gunman's secretive life stymies probe
SEARCH FOR MOTIVE: Sheriff Joseph Lombardo said Stephen Paddock spent decades acquiring weapons and living a secret life, after investigators questioned his girlfriend
The Las Vegas gunman who killed 58 people and himself in the deadliest mass shooting in modern US history stockpiled weapons and ammunition over decades, and meticulously planned the attack, authorities believe.
However, what led Stephen Paddock, 64, to unleash the carnage he did remains largely a mystery.
"What we know is that Stephen Paddock is a man who spent decades acquiring weapons and ammo and living a secret life, much of which will never be fully understood," Clark County Sheriff Joseph Lombardo said at a news briefing on Wednesday night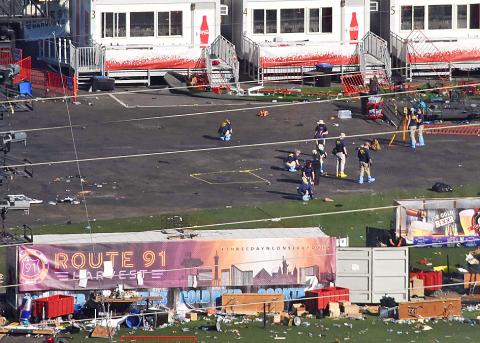 FBI investigators on Wednesday work at Las Vegas Village in Las Vegas, Nevada, where people attending a country music festival were gunned down on Sunday night.
Photo: AFP
Lombardo said he found it hard to believe that the arsenal of weapons, ammunition and explosives recovered by police in their investigation could have been assembled by Paddock completely on his own.
"You have to make an assumption that he had some help at some point," Lombardo said.
About 489 people were also injured when Paddock strafed an outdoor concert with gunfire on Sunday night from his 32nd-floor suite of the Mandalay Bay hotel on the Las Vegas Strip. He then took his own life.
There is evidence that Paddock tried to survive and escape. He also may have scouted out the location, renting a room at the Ogden, a nearby hotel, during the Life is Beautiful festival a week earlier, Lombardo said.
Police recovered nearly 50 firearms from three locations they searched, nearly half of them from the hotel suite. Twelve rifles in the suite were fitted with so-called bump stocks, allowing the guns to be fired almost as though they were automatic weapons., officials said.
Lombardo said investigators were examining the possibility Paddock's purchase of more than 30 guns in October last year might have been precipitated by some event in his life. He did not elaborate.
There remained no evidence as yet "to indicate terrorism" in the shooting spree, said Aaron Rouse, the FBI special agent in charge of the Las Vegas field office.
Paddock's girlfriend, Marilou Danley, was questioned by the FBI on Wednesday and said in a statement she was unaware of the Paddock's plans.
"He never said anything to me or took any action that I was aware of that I understood in any way to be a warning that something horrible like this was going to happen," Danley, 62, said in a statement released by her lawyer, Matt Lombard.
Danley returned to the US late on Tuesday from a family visit to the Philippines. She is regarded by investigators as a "person of interest."
Lombard said his client was cooperating fully with authorities.
An Australian citizen of Philppine heritage, Danley said she flew back to the US voluntarily "because I know that the FBI and Las Vegas Police Department wanted to talk to me, and I wanted to talk to them."
Danley, who was twice married before her relationship with Paddock, became a focus of the investigation for having shared his retirement community condo in Mesquite, Nevada, northeast of Las Vegas, before leaving for the Philippines in the middle of last month.
Investigators questioned her about Paddock's weapons purchases, a US$100,000 wire transfer to a Philippine bank that appeared to be intended for her and whether she saw any changes in his behavior before she left the US.
Danley said Paddock had bought her an airline ticket to visit her family and wired her money to purchase property there, leading her to worry he might be planning to break up with her.
Paddock's brother Eric told reporters the US$100,000 transfer was evidence that "Steve took care of the people he loved," and that he probably wanted to protect Danley by sending her overseas before the attack.
She arrived in Manila on Sept. 15, flew to Hong Kong on Sept. 22, returned to Manila on Sept. 25 and was there until she flew to Los Angeles on Tuesday night, according to a Philippine immigration official.
Comments will be moderated. Keep comments relevant to the article. Remarks containing abusive and obscene language, personal attacks of any kind or promotion will be removed and the user banned. Final decision will be at the discretion of the Taipei Times.