Lula facing new round of quizzing in corruption case
Once hugely popular former Brazilian president Luis Inacio Lula da Silva faced a new grilling yesterday by the country's chief anti-corruption judge, Sergio Moro, in a case that could decide whether Lula can return to power.
Lula, who is a frontrunner in next year's presidential election despite multiple corruption charges, was to be questioned by Moro in the southern city of Curitiba.
The testimony is part of 71-year-old Lula's trial for alleged bribe taking from the scandal-plagued Odebrecht construction giant. He is already a defendant in four other corruption trials.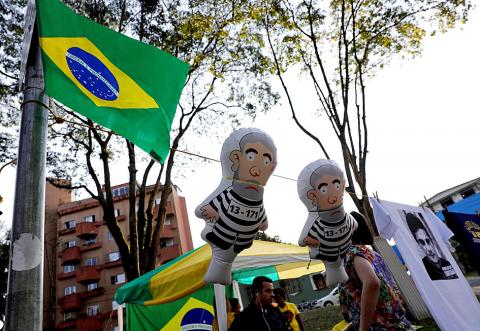 Inflatable balloons depicting former Brazilian president Luiz Inacio Lula da Silva in a prison uniform, known as "Pixuleco," are displayed in front of the Federal Justice headquarters in Curitiba, Brazil, on Tuesday.
Photo: Reuters
And in July, Moro sentenced Lula to nine-and-a-half years in prison after being convicted in a sixth trial of receiving a seaside apartment from the OAS construction company in return for help obtaining lucrative contracts with the Petrobras oil company.
Lula, the founder of Brazil's leftist Workers' Party, is free pending appeal of that sentence and hopes to string out or defeat the other cases so that he can run for a third term next year.
However, problems are mounting for the man whose 2003 to 2010 presidency made him Latin America's new leftist giant.
Although Lula tops the opinion polls, that is partly because campaigning has not started and name recognition gives him a head start. Also, his negative ratings are far higher than for other candidates.
A recent bus tour of his electoral heartland in the northeast of Brazil met a lukewarm reception, drawing core supporters, but not the kind of massive crowds that might have made judges afraid of tough action.
Lula has said the corruption charges are concocted to prevent his return.
However, he has been hurt by testimony from his former economy minister and right-hand man, Antonio Palocci, who told Moro last week that "the facts related in [the latest case involving Lula] are true."
Lula is accused of having Odebrecht buy the land for his Sao Paulo institute and providing an apartment in nearby Sao Bernardo do Campo.
Palocci said a "blood pact" was reached between the Workers' Party and Odebrecht in 2010 when Lula was handing over to his successor, former Brazilian president Dilma Rousseff, with the company giving the party the equivalent at that time of US$171 million.
Lula says that Palocci, who has been sentenced to 12 years in prison, testified falsely under pressure.
Meanwhile, Brazilian President Michel Temer on Tuesday criticized what he described as an out of control judiciary's use of unsubstantiated corruption allegations to destroy reputations.
His unusually strongly worded statement followed new reports that he gained millions of dollars in benefits from a corruption scheme.
Comments will be moderated. Keep comments relevant to the article. Remarks containing abusive and obscene language, personal attacks of any kind or promotion will be removed and the user banned. Final decision will be at the discretion of the Taipei Times.