Irma leaves Caribbean isles devastated
NOT GETTING A BREAK: The holiday islands of Saint Martin, Saint Thomas, Barbuda and Anguilla have been hit especially hard and stand to lose much from a loss of tourist revenue
Thousands of victims of Hurricane Irma across the Caribbean on Friday fought desperately to find shelter or escape their storm-blasted islands altogether as the death toll across the Caribbean climbed to 22, as another hurricane following close behind threatened to add to their hardship.
Many residents and tourists farther east were left reeling after the storm ravaged the islands of Saint Martin, Saint Barts, Saint Thomas, Barbuda and Anguilla.
Irma smashed homes, shops, roads and schools; knocked out power, water and telephone service; trapped thousands of tourists; and stripped trees of their leaves, leaving an eerie, blasted-looking landscape littered with sheet metal and splintered lumber.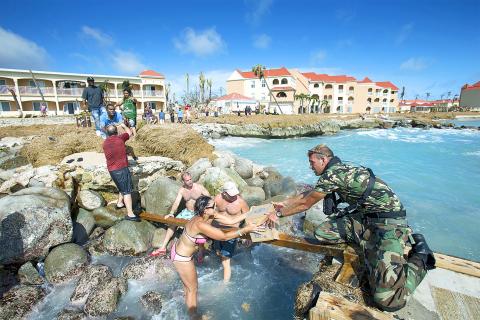 Dutch Royal Navy personnel distribute supplies for victims of Hurricane Irma on the island of Saint Martin on Friday.
Photo: AFP PHOTO / DUTCH DEFENSE MINISTRY / GERBEN VAN ES
Looting and gunshots were reported on Saint Martin and a curfew was imposed in the US Virgin Islands.
Puerto Rico, the Dominican Republic and the eastern part of Cuba reported no major casualties or damage by mid-afternoon, after Irma rolled north of the Caribbean's biggest islands.
Many of Irma's victims fled their islands on ferries and fishing boats for fear of Hurricane Jose, a Category 4 storm with 241kph winds that could hit some of the same places this weekend.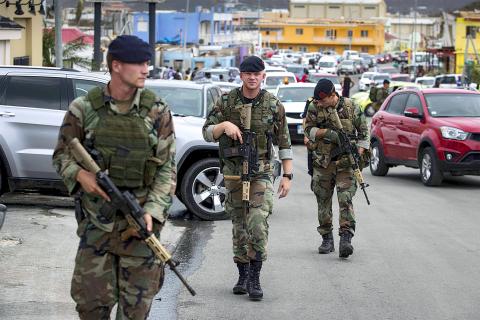 Dutch soldiers patrol in Philipsburg, Saint Martin, on Thursday, after Hurricane Irma created chaos on the island.
Photo: EPA-EFE / GERBEN VAN ES / DUTCH DEPARTMENT OF DEFENSE
On Barbuda, a coral island rising a mere 38m above sea level, authorities ordered an evacuation of all 1,400 people to neighboring Antigua.
The dead included 11 on Saint Martin and Saint Barts, four in the US Virgin Islands, four in the British Virgin Islands and one each on Anguilla and Barbuda.
On Saint Thomas in the U.S. Virgin Islands, power lines and towers were toppled, a water and sewage treatment plant was heavily damaged, and the harbor was in ruins, along with hundreds of homes and dozens of businesses.
At the same time, more than 1,600km to the east, authorities commandeered a ferry from Montserrat with room for 350 and began moving people from Barbuda to the larger island of Antigua. The owners of several fishing boats also volunteered to help.
Thomas said few structures were left standing in Barbuda, and even those that were not destroyed had some damage.
On Saint Martin, which is divided between Dutch Sint Maarten and French Saint Martin, cafes and shops were swamped, and the storm left gnarled black branches denuded of leaves. Battered cars, corrugated metal, plywood, wrought iron and other debris covered street after street. Roofs were torn off numerous houses.
There was little left of Saint Martin's Hotel Mercure but its sign, painted on a still-standing wall. The cleanup was already underway for some. One man chopped at the branches of a bare tree. Another heaved what appeared to be furniture stuffing onto a pile. People sat in chairs outside a hospital, waiting to be seen.
Sint Maarten Premier William Marlin said recovery was expected to take months even before Jose threatened to make things worse.
"We've lost many, many homes. Schools have been destroyed," he said. "We foresee a loss of the tourist season because of the damage that was done to hotel properties, the negative publicity that one would have that it's better to go somewhere else because it's destroyed. So that will have a serious impact on our economy."
Comments will be moderated. Keep comments relevant to the article. Remarks containing abusive and obscene language, personal attacks of any kind or promotion will be removed and the user banned. Final decision will be at the discretion of the Taipei Times.