Reporter was not target of attack: Mexican official
The assailants who killed a crime reporter in Mexico's Veracruz State appeared to be targeting two other people also slain in the attack, not the journalist, the nation's top human rights official said on Wednesday.
Mexican Department of the Interior Deputy Secretary for Human Rights Roberto Campa said the initial investigation suggests that Candido Rios Vazquez of the newspaper Diario de Acayucan was not the attackers' target. He did not provide any additional details.
"All indications point toward this being an attack against another person and that person's bodyguards," Campa said during a visit to Veracruz's capital.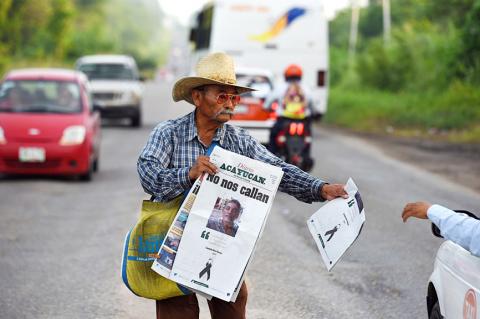 A man sells copies of the Diario de Acayucan featuring a photograph and story about the slain journalist Candido Rios Vazquez with the headline "They will not silence us" on Wednesday in Hueyapan, Mexico.
Photo: EPA
Mexican officials have often been quick to point to motives other than reporting in the killings of journalists.
Campa's comments outraged Rios Vazquez's colleagues, who said the journalist had been repeatedly threatened by a former mayor since 2012.
"They're worse than the bullets that killed Candido," the slain reporter's editor, Cecilio Perez Cortes, said of Campa's remarks.
Perez said it was "irresponsible" of Campa to make such a public conclusion less than 24 hours after the crime without any proof.
"Implicitly he's freeing the killers from blame," Perez said.
Campa is one of the officials who oversee the federal government's so-called mechanism to protect journalists and human rights workers.
Rios Vazquez had been enrolled in the program since 2013 due to threats from a municipal official, he said, adding that Rios Vazquez's case had been reviewed in recent months and that his home was outfitted with six surveillance cameras and a panic button.
The attack that occurred on Tuesday afternoon in front of a gas station on a rural highway was not the sort of risk that authorities had evaluated for Rios Vazquez, he said.
"We have to do an analysis and self-criticism about the effectiveness of the measures," Campa said.
Rios Vazquez's wife, Hilda Nieves Martinez, on Wednesday said that her husband had been threatened for years by a former mayor of Hueyapan.
Men had been sent to beat him up and they had threatened to cut out his tongue and eyes, she said, adding that he had gone to Mexico City to tell authorities about all of it.
Perez said that his reporter had just messaged him and was headed home at about 3pm.
He had stopped along the road to speak with a former police inspector he knew when they were attacked. The inspector was also killed along with a third person.
The Mexican National Human Rights Commission said Rios Vazquez was the ninth journalist slain so far this year and called for a thorough investigation and for officials to provide protection for his family.
The front page of Wednesday's Diario de Acayucan featured a large photograph of Rios Vazquez below the headline: "They will not silence us."
Comments will be moderated. Keep comments relevant to the article. Remarks containing abusive and obscene language, personal attacks of any kind or promotion will be removed and the user banned. Final decision will be at the discretion of the Taipei Times.