Rapper arrested on unrelated charge after shooting
A rapper whose concert in Little Rock, Arkansas, was the site of a shooting that left 28 people injured, was arrested early Sunday on unrelated assault charges, while outside an Alabama club where he was performing just 24 hours later, authorities said.
Ricky Hampton, 25, of Memphis, Tennessee, also known as Finese 2Tymes, was arrested on outstanding charges of aggravated assault with a gun out of Forrest City in eastern Arkansas, the US Marshals Service said.
A second man was also taken into custody, and two handguns and an assault rifle were seized from the Mercedes in which the two men were riding, Cliff LaBarge of the US Marshals Service in Alabama said.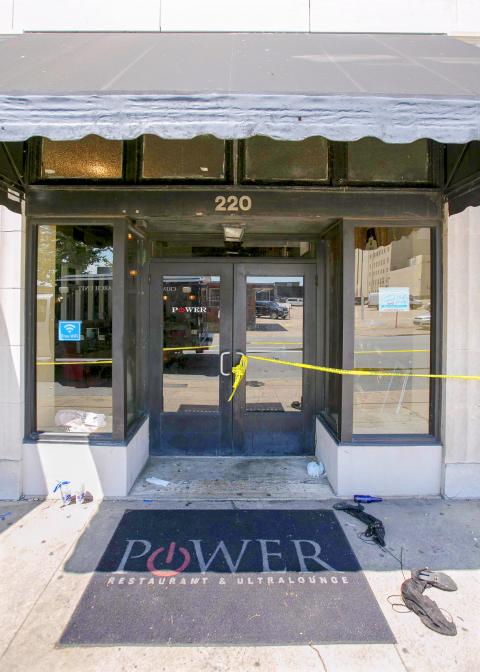 Police tape surrounds the Ultra Power Lounge as Little Rock Police Department detectives and crime scene personnel collect evidence on Saturday in Little Rock, Arkansas, following a shooting that injured 28 people.
Photo: AFP
WEAPONS TESTS
The firearms are to be sent to a crime lab in Arkansas to determine whether they match shell casings found at the scene of the shooting early Saturday at the Power Ultra Lounge, Little Rock Police Lieutenant Steven McClanahan said.
McClanahan described Hampton as a "person of interest" and said the rapper would be extradited to Arkansas so that police could interview him.
McClanahan said no arrests have been made in the shooting in which 25 people between the ages of 16 and 35 suffered gunshot wounds, and three others were hurt afterward.
He said police did not recover any weapons at the scene of the shooting, which authorities believe may have been gang-related.
"We are definitely looking at that possibility," McClanahan said. "We know that gang members were present inside."
Prison records from the Tennessee Department of Corrections show a Ricky Hampton with the same date of birth, hometown and a similar appearance was released from prison in August last year after serving six years for two counts of aggravated robbery.
Material advertising the concert by Finese 2Tymes showed a man pointing a gun at a camera, drawing a rebuke from Little Rock Mayor Mark Stodola.
Hampton was being held on Sunday without bond in Alabama.
A message posted on the rapper's Facebook page on Saturday offered thoughts and prayers for those injured: "THE VIOLENCE IS NOT FOR THE CLUB PEOPLE. WE ALL COME WITH 1 MOTIVE AT THE END OF THE DAY, AND THATS TO HAVE FUN."
A woman who answered a phone number listed on Finese 2Tymes' Instagram account for booking said the rapper did not consider canceling the Birmingham, Alabama, show, despite the shooting, because he was not responsible for what happened.
The woman did not give her name before hanging up.
MULTIPLE PEOPLE
The volley of gunfire inside the Power Ultra Lounge came so fast that investigators believe multiple people had to have been involved. Police Chief Kenton Buckner credited quick work by first responders for there being no fatalities.
City officials were to shut down the club yesterday under a "criminal abatement" program.
State regulators suspended the club's liquor license on Saturday, and a representative for the landlord's office later posted an eviction notice on a door to the club.
The notice stated that the club must move out of the property within three days "due to your failure to maintain the premises in a safe condition."
About 30 people attended a news conference on Sunday with Arkansas Stop the Violence, which is seeking more resources to fight poverty and crime in the southern half of the city.
The event was held in front of a police station near where a boy was shot in a drive-by last week.
Comments will be moderated. Keep comments relevant to the article. Remarks containing abusive and obscene language, personal attacks of any kind or promotion will be removed and the user banned. Final decision will be at the discretion of the Taipei Times.