New Mexico police call for writer to end treasure hunt
New Mexico's top law enforcement official has urged the author and antiquities dealer who inspired thousands to search remote corners of the western US for a hidden chest of gold and jewels to end the treasure hunt.
The plea from New Mexico State Police Chief Pete Kassetas follows what authorities believe is the latest death related to the effort to uncover Forrest Fenn's treasure.
Colorado pastor Paris Wallace last week disappeared while searching for the bounty in a rugged area along the Rio Grande in northern New Mexico. His family reported him missing, triggering an extensive search.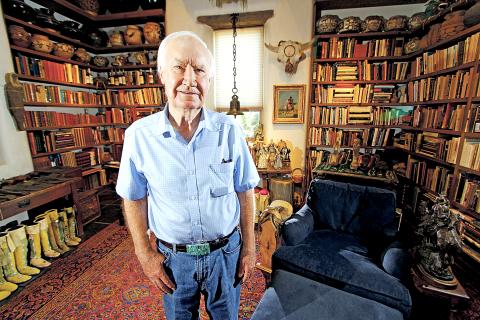 Author and antiquities dealer Forrest Fenn poses for a photograph at his home in Santa Fe, New Mexico, on July 4, 2014.
Photo: Santa Fe New Mexican via AP
Police believe a body recovered on Sunday is Wallace's. Medical investigators were on Tuesday working to make a positive identification.
Kassetas told reporters that Fenn should retrieve the treasure from wherever he hid it, and stop what he called the nonsense and insanity.
"He's putting lives at risk," Kassetas said, adding that he planned to contact Fenn personally to ask him to call off the hunt.
Fenn did not respond to e-mails from reporters asking about Wallace's disappearance and the calls to end the search for the cache of gold coins, jewels and other artifacts he claims to have hidden somewhere in the Rocky Mountains.
Fenn dropped clues to its whereabouts in a cryptic poem in his memoir, The Thrill of the Chase.
He on Monday told the Santa Fe New Mexican newspaper that he has been considering how to make the search safer or cancel it altogether, but has not made any decisions.
He told the newspaper that Wallace's disappearance was tragic.
Wallace, 52, traveled to the Espanola area last week. His wife reported him missing on Wednesday last week after he did not return home and hotel staff informed her that his belongings were still in his room.
Police and wildlife officials searched forest and county roads and popular hiking trails.
After looking at Wallace's laptop, authorities learned of other locations where he might have gone. They eventually found his vehicle along the Rio Grande.
At the edge of the water, officers saw two red ropes tied together and to a large rock. Receipts in Wallace's vehicle indicated the ropes belonged to him.
Rescuers spent two days searching the river until rafters spotted a body downstream — about 11km from where Wallace was last believed to have been.
Authorities said the search effort required extensive resources, including air support, the state police dive team, numerous officers, canine teams and volunteers.
Mitzi Wallace, Wallace's fellow treasure hunter and wife of 30 years, said it would be a mistake for Fenn to end the hunt, and she would continue to search for the treasure with her 19-year-old son, including in the area where authorities believe her husband died.
"Our treasure is that time we spend together," she told reporters on Tuesday.
Her husband put himself in a dangerous situation that cost him his life, but "I know without a shadow of a doubt that it was God's way of taking him," she said, without elaborating.
Efforts to find wayward treasure hunters have put the lives of law enforcement officers and search-and-rescue volunteers at risk while straining state resources, Kassetas said.
The state's search-and-rescue team on Tuesday launched a survey on whether Fenn should call off the search.
"Over the years, as people have searched for this treasure, some have ended up getting into trouble and needing help from search and rescue. At least two have lost their lives looking for the treasure chest," the survey said.
Comments will be moderated. Keep comments relevant to the article. Remarks containing abusive and obscene language, personal attacks of any kind or promotion will be removed and the user banned. Final decision will be at the discretion of the Taipei Times.