Australian media inciting 'China panic': ambassador
Reports of foreign influence in Australian politics through donations by Chinese citizens are an attempt to whip up a "China panic," the Chinese ambassador to Australia has said.
At an event in Canberra yesterday, Chinese Ambassador to Australia Cheng Jingye (成競業) labeled claims of Chinese interference a "groundless" attempt to reheat old allegations, akin to "cooking up the overnight cold rice."
Last week, TV program Four Corners investigated more than A$4 million (US$3 million) of donations to the major parties by Australian-Chinese citizen Chau Chak Wing (周澤榮), who was a member of a Chinese Communist Party advisory group known as a People's Political Consultative Conference.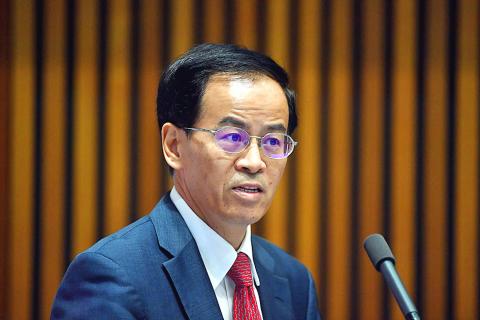 Chinese Ambassador to Australia Cheng Jingye attends an Australia China Business Council Canberra Networking Day in the Australian capital yesterday.
Photo: EPA
Four Corners revealed that Australian Security Intelligence Organisation Director-General Duncan Lewis had become so worried about the influence of foreign donations that he organized meetings with lawmakers to warn them that some donors could compromise the major political parties.
Australian Strategic Policy Institute executive director Peter Jennings described such donations as naked influence buying.
Cheng addressed the report at the Australia China Business Council Canberra Networking Day.
He said it was "sensational" to allege that the Chinese government was behind the donations made by Chinese or Chinese-Australian citizens, and that it had the aim of influencing Australian politics or foreign policy.
"What was reported in the program was basically a kind of platitude. I've heard those allegations more than once since I was posted here," he said. "In Chinese, we call it 'cooking up the overnight cold rice,' which means repeating the same old stuff again and again. Maybe the producers of the program believe that those groundless allegations may turn [out] to be truth after being repeated thousands of times."
Cheng said people who made such allegations have "wild and morbid" imaginations, which might one day be awarded a Nobel prize "if they were to apply their imagination to scientific research."
The Chinese ambassador claimed that people who spread the allegations were "politically motivated" and they risked the "friendly cooperation" of Australia and China.
"Their main purpose, as I see it, is to instigate China panic," he said.
In response to the reports, the Labor Party has called for a bipartisan reference to the parliamentary joint committee on intelligence and security to investigate foreign interference in Australian politics, including through donations.
The government intends to introduce a bill in the spring parliamentary sitting to ban foreign donations not just to political parties, but also to third-party activist groups such as GetUp.
Last month, Australian Prime Minister Malcolm Turnbull asked Attorney General George Brandis to undertake a comprehensive review of the nation's espionage and foreign interference laws.
On Wednesday, several Labor lawmakers called for an inquiry.
It followed reports in Fairfax Media and the Australian that Simon Shuo Zhou, a gold trader who ran for Labor as a Senate candidate in last year's election, quit a part-time job at the New South Wales Labor headquarters this week after the party was questioned about his alleged link to a tax scam involving gold dealers.
Question time on Wednesday was dominated by foreign donations when Australian Treasurer Scott Morrison targeted the opposition's links to Zhou.
He said "gold-plated fraud" had "wormed its way into the Australian Labor party."
Labor targeted Australian Minister for Foreign Affairs Julie Bishop, asking if she was aware one of the Liberal party's largest donors, Chinese mining magnate Sally Zou (鄒莎), reportedly set up a company called the "Julie Bishop Glorious Foundation."
Bishop replied that all donations to the Liberal party were declared to the Australian Electoral Commission and until the media raised it with her a week ago, she was not aware of the foundation.
Comments will be moderated. Keep comments relevant to the article. Remarks containing abusive and obscene language, personal attacks of any kind or promotion will be removed and the user banned. Final decision will be at the discretion of the Taipei Times.