Jeff Sessions denies Russia accusations
COMEY COMMENTS: The US attorney general said that the former FBI director was fired because of his 'usurpation' of authority regarding a probe of Hillary Clinton
US Attorney General Jeff Sessions on Tuesday denied having an undisclosed meeting with Russia's ambassador to the US and declared it was a "detestable and appalling lie" to suggest he was aware of or took part in alleged collusion between Russia and US presidential election campaigns.
Testifying at a packed US Senate hearing, Sessions also rejected any idea of misconduct in the ouster of former FBI director James Comey and vowed to defend his own honor "against scurrilous and false allegations."
In his appearance before former colleagues, Sessions contradicted a contention made by Comey at a hearing before the same panel last week.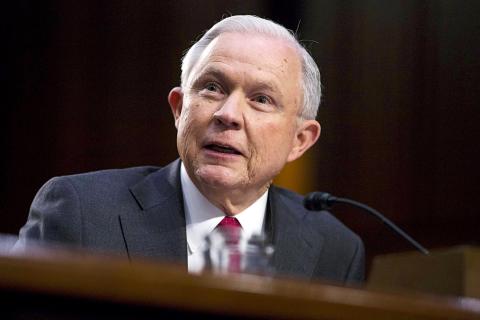 US Attorney General Jeff Sessions testifies before the US Senate Intelligence Committee on Capitol Hill in Washington on Tuesday.
Photo: AFP
Comey told the Senate Select Committee on Intelligence that, after an encounter with US President Donald Trump in which Comey said Trump pressured him to back off an investigation into his former national security adviser, Comey implored Sessions to make sure he was never left alone with the president again, but Sessions did not respond.
"He didn't recall this, but I responded to his comment by agreeing that the FBI and [US] Department of Justice needed to be careful to follow department policy regarding appropriate contacts with the White House," Sessions said.
The former senator also said that accusations he misrepresented himself during his confirmation hearing — at which he said he had not met with Russian officials during the campaign — were false.
Sessions said that in the context of that hearing, "my answer was a fair and correct response to the charge as I understood it."
The attorney general stepped aside from the Justice Department probe into Russian meddling in the campaign on March 2, the day after the Washington Post reported on two previously undisclosed meetings with Russian Ambassador to the US Sergey Kislyak.
Days after that, Sessions informed the committee about two meetings with Kislyak.
Ahead of the hearing there had been suggestions that Sessions might have had a third, unreported encounter with Kislyak in April last year, at Washington's Mayflower Hotel, where then-candidate Trump was giving his first major foreign-policy speech.
Sessions said that he did not have a private meeting with Kislyak at that event.
He did allow for the possibility that he encountered him at a reception that he said was attended by a couple dozen people, although he said he had no specific recollection of that.
Democratic senators have seized on the possibility of a third meeting to suggest that Sessions has not been forthcoming about the extent of his communications with the ambassador.
US senators Al Franken and Patrick Leahy have sought an FBI probe.
Sessions said that he recused himself from the Russia investigation only because of a regulation that required it because of his involvement in the Trump campaign.
"Many have suggested that my recusal is because I felt I was a subject of the investigation myself, that I may have done something wrong," Sessions said. "That was not so."
While he had recused himself from the Russia probe, "I did not recuse myself from defending my honor against scurrilous and false allegations," Sessions said.
US Senator Ron Wyden asked Sessions about suggestions arising from Comey's testimony last week that there was something "problematic" about his recusal.
Wyden asked Sessions what problematic issues existed.
"Why don't you tell me? There are none, Senator Wyden, there are none," Sessions said. "This is a secret innuendo being leaked out there about me, and I don't appreciate it."
As for Comey's firing, Sessions told senators that his recommendation had nothing to do with the Russia probe, that he and Rosenstein had a "clear view ... that we had problems there and it was my best judgement that a fresh start at the FBI was the appropriate thing to do and when asked, I said that to the president."
Sessions criticized Comey's handling of the investigation into former US secretary of state Hillary Rodham Clinton's use of e-mail — which the White House had initially cited as the ostensible reason for his firing.
Comey's decision last year to announce that Clinton would not be prosecuted was a "usurpation" of the Justice Department's authority, Sessions said.
Asked about Trump's own contention that the president fired Comey with the Russia probe in mind, and regardless of any recommendation from anyone else, Sessions said: "I guess I'll just have to let his words speak for themselves. I'm not sure what was in his mind specifically."
Comments will be moderated. Keep comments relevant to the article. Remarks containing abusive and obscene language, personal attacks of any kind or promotion will be removed and the user banned. Final decision will be at the discretion of the Taipei Times.