FEATURE: Japanese billionaire Maezawa rings in new era of art
With a single post on Instagram, Yusaku Maezawa announced not only his purchase of a US$110.5 million Basquiat masterpiece and his place in auction history, but arguably signaled a new era for art in Japan.
The price, a record for the artist, is reminiscent of 1980s Japan, when corporate big-spenders splashed out on Impressionist art along with foreign property and businesses in an asset-buying spree.
However, billionaire Maezawa insists he is just an "ordinary collector," despite his extraordinary bank balance.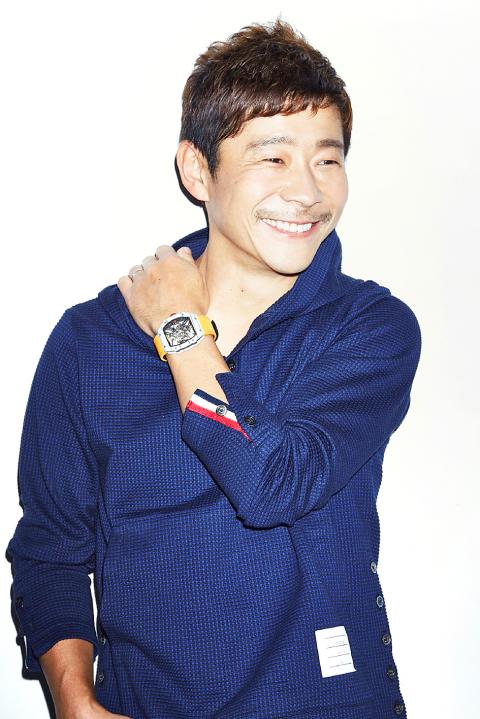 Japanese billionaire Yusaku Maezawa poses in an undated photograph provided by the Contemporary Art Foundation.
Photo: AFP / The ontemporary Art Foundation
His purchases are born out of love and driven by gut instinct, rather than the instructions of any art adviser.
"I buy simply because they are beautiful. That's all. I enjoy classics together with the history and stories behind them, but possessing classics is not the purpose of my purchase," he told reporters.
Rather than squirrel away his latest purchase — Jean-Michel Basquiat's 1982 Untitled, a skull-like head in oil-stick, acrylic and spray paint on a giant canvas — he plans to loan it out to galleries worldwide.
"I hope it brings as much joy to others as it does to me and that this masterpiece by the 21-year-old Basquiat inspires our future generations," he said after the New York sale last month.
The 41-year-old's style is a step change from the corporate image of Japan's traditional art collectors who possess paintings as investment tools or to cement their social status.
Paper tycoon Ryoei Saito, who bought Vincent Van Gogh's Portrait of Dr Gachet in 1990 for US$82.5 million — a record at the time — and Pierre-Auguste Renoir's Bal du Moulin de la Galette for US$78.1 million — famously triggered outrage when he said he would have the canvases put in his coffin and cremated with him when he died.
He later recanted.
"Many Japanese rushed to buy paintings for investment during the bubble economy," said Shinji Hasada, an official at Shinwa Art Auction, of the 1980s and 1990s boom period.
However, many of the bubble-era masterpieces were sold off in a fire sale when the Japanese economy collapsed.
Today Japan's art collection market has shrunk to around one-20th of its peak, Hasada said.
While collectors such as former chairman of publisher Benesse Soichiro Fukutake, who helped transform a remote island into an art haven, have bolstered interest, Hasada said Maezawa could inject new life into the sector.
"In all eras of history, patrons have come out to boost the art world and in that sense he is the modern one we have been waiting for," Hasada said.
An aspiring rock star as a teenager, he moved on to selling music merchandise via mail order and then online. In 1998 Maezawa founded Start Today, which operates the nation's largest online fashion mall, Zozotown.
His Instagram feed, where he proclaimed to the world that he was the one who purchased Basquiat's painting, is peppered with shots of his luxury living — including private jets, yachts and designer watches, but also his beloved art.
Many traditional collectors are more secretive — Untitled had previously not been seen in public for decades, but Maezawa wants to engage a new generation with his passion. About 73,000 people follow his posts.
"I think [Instagram] is helping promote contemporary art in terms of information sharing," he said.
Comments will be moderated. Keep comments relevant to the article. Remarks containing abusive and obscene language, personal attacks of any kind or promotion will be removed and the user banned. Final decision will be at the discretion of the Taipei Times.