Student in 'bomb' drama just out of psychiatric care
A Sri Lankan student who tried to enter an airline cockpit with what he said was a bomb before terrified passengers overpowered him had been released from psychiatric care just before boarding the plane, Australian police said yesterday.
Passengers on Malaysian Airlines Flight MH128 from Melbourne to Kuala Lumpur said they feared for their lives when the 25-year-old rushed toward the cockpit shouting that he wanted to "blow the plane up."
"He had been released from psychiatric care [on Wednesday], and from there we believe he has purchased a ticket on this plane," Victoria state Police Chief Graham Ashton told reporters.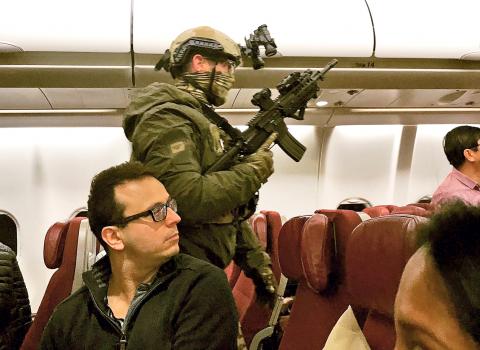 Police in tactical gear board a Malaysia Airlines plane after a man tried to enter its cockpit in Melbourne, Australia, yesterday.
Photo: AP
Several passengers wrestled the man to the floor, Ashton said.
The crew gave them seatbelts to hog-tie him before the plane made an emergency landing at Melbourne airport.
Armed officers from an elite police unit boarded the flight, handcuffing the man and escorting him off.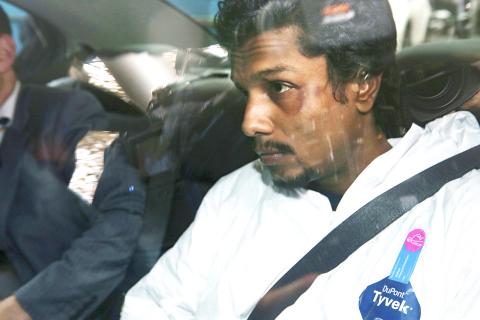 A man who was arrested for trying to enter the cockpit of a Malaysia Airlines flight is driven to the Magistrates Court in Melbourne, Australia, yesterday.
Photo: AP
Photographs taken by a passenger showed black-clad officers carrying rifles in the cabin.
The suspect, who lived in the Melbourne suburb of Dandenong and was studying to be a chef, said he was carrying a bomb, but the device was actually a Bluetooth speaker slightly larger than an iPhone, Ashton said.
Australian Prime Minister Malcolm Turnbull said the incident was "not currently being treated as terrorism-related."
"I'm informed the man has a criminal history and has previously been treated for mental health issues," he said.
The unnamed man was charged with making threats and false claims, and endangering an aircraft's safety — offenses that carry a 10-year sentence.
He was due to appear in Melbourne Magistrates Court later yesterday.
Malaysian Deputy Minister of Transport Abdul Aziz Kaprawi earlier said that the incident was "not a hijack," but involved "one disruptive passenger [who] tried to enter the plane's cockpit".
While officials played down the incident, passengers spoke of a terrifying 90-minute ordeal after the plane took off.
A business-class passenger, former Australian Rules player Andrew Leoncelli, spoke to Melbourne radio station 3AW.
"The staff were saying: 'Sit back down sir, sit back down sir.' He goes: 'No, I'm not going to sit back down, I'm going to blow the plane up,'" Leoncelli said.
"The staff screamed out: 'I need some help, I need some help.' So I jumped up, undid my buckle and approached him," Leoncelli said.
The man ran to the back of the plane, where two other passengers grabbed him, removed the device, and "put hog ties on him," Leoncelli said.
Passenger Arif Chaudery said he joined several others to subdue the Sri Lankan.
"Families, kids, they were very scared, and some screaming ... so three or four guys, we jumped as quickly as possible," he told Channel Nine television.
"We just put him on the floor and finally staff brought the belt, so we handcuffed him, and tied his legs and put his face on the floor," Chaudery said.
A passenger who gave her name as Laura told Australian Broadcasting Corp she feared for her life.
"I thought the plane was going to go down. I thought the bomb was going to go off. I really did think I was going to die," she said.
Some passengers questioned why it took so long for the elite unit to arrive after the plane landed, complaining they had to wait an hour.
However, Ashton said there was no delay for such a "life or death scenario" and that officers had to sift through reports of more than one alleged attacker and confirm if the device was explosive before they could safely remove passengers.
Victorian Premier Daniel Andrews said that passengers and crew were being offered support after the "frightening" experience.
Comments will be moderated. Keep comments relevant to the article. Remarks containing abusive and obscene language, personal attacks of any kind or promotion will be removed and the user banned. Final decision will be at the discretion of the Taipei Times.